A digital driver for the perfect customer experience.
After completing his studies in IT with a major in Software Application and then earning his MBA, Damanpreet Chawla joined Mercedes-Benz R&D India as a management trainee. He is now an IT specialist for Supply Chain Management at Mercedes-Benz USA in Atlanta, Product owner, and expert for agile working methods. He and the international team make sure that replacement parts are in the right place at the right time. We spoke with him about his love of luxury cars, his determination, and about his idea, how he takes his parents to the places he travels to in the US, even though they live in India.
Hello Damanpreet. In 2022, you left your job as an IT specialist at Mercedes-Benz R&D India to work in Aftersales Supply Chain Management at Mercedes-Benz USA. How did this come about?
I had already specialised in after-sales for various markets, including Japan, Poland and the NAFTA region, which is North America, Canada and Mexico. For example, back in India I was in charge of integrating new software for Mercedes-Benz Canada that Canadian dealers use to place orders. I also oversaw numerous projects for Mercedes-Benz USA directly on-site. When my American colleagues started looking for a full-time employee with my expertise there, I decided to transfer.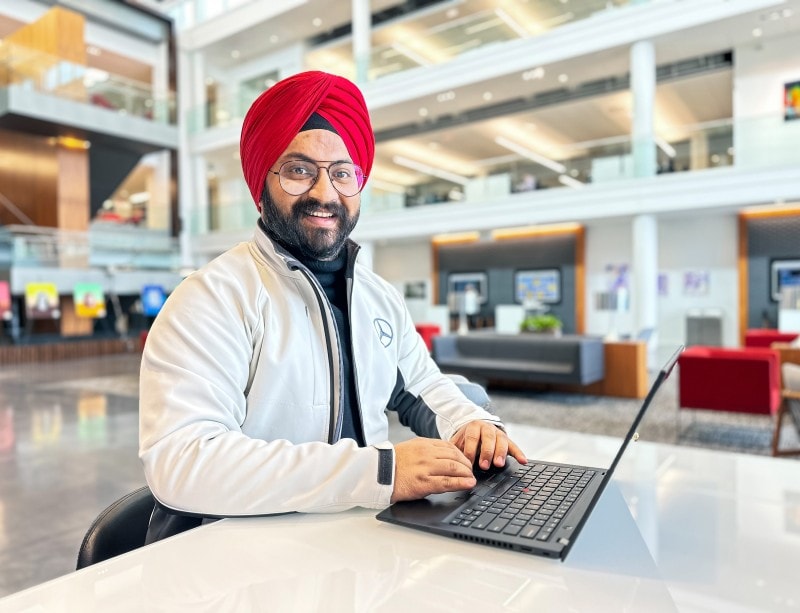 "I went from one position to the next and now I am working where I had originally hoped. The first step is what counts. The rest will follow."
What do you like most about your job in the US?
At Mercedes-Benz, we want to build the most desirable cars. Therefore, we depend on growth, innovation and a focus on the customer experience. I was able to support this goal only from a distance in India, but now I am experiencing this first hand. So, while working in the US, I think there's a great opportunity to help steer the customer experience in particular.
How do you like living in Atlanta?
For me, a dream came true. However, after 11 years in Bangalore with perfect weather between 25 and 30 degrees Celsius, I had to get used to the colder climate (laughs). I have been here for nearly a year now. During my time off, I do a lot of driving, preferably with my wife in our Mercedes-AMG. We have explored more than 15 cities in the US. For instance, I drove 1,500 miles to visit Boston! We've also been to New York and Washington D.C., so we're familiar with the East Coast. I am very happy with the life that my job provides me here.
Your department assists IT for vehicle sales, parts logistics, production, warehouse, retail, finance and controlling for the entire NAFTA region. What are your tasks specifically?
I work specifically for the parts logistics department, where I am in charge of parts management for Mercedes-Benz dealer partners. We're not only in charge of dealer orders; we also support logistics in terms of warehousing and planning so that the parts are available. You could say we are responsible for a seamless process, from order placement to billing. For instance, we are a key hub for delivering parts from the Mercedes-Benz Global Logistics Center in Germersheim in Germany to the parts distribution centres for the NAFTA region.
Your team uses IT applications, such as open-source tools or the Internet of Things applications, as an extended centre of expertise for six different areas. How would you summarise your function in the company?
We handle end-to-end support for the infrastructure and vehicle sales between Mercedes-Benz dealers and customers. As IT experts, our team supports the entire supply chain for Mercedes-Benz in the NAFTA region. This requires us to communicate each day with many stakeholders. Sometimes there are more than 35 contacts in one day.
What do you love most about your job?
With its after-sales business, Mercedes-Benz bundles its worldwide activities, after vehicle sales, for example when it comes to performing repairs or services. I am proud that we can get a requested part to the right place at a certain time. I am happy about the added value, which we provide our customer – the dealer – with the right parts on time so that they can help the end customer.
How can we picture your team?
We have an international team of colleagues from Türkiye, India and Morocco and USA who have different experiences and IT expertise. Each of us is responsible for a certain area such as vehicle sales, customer service, or finance and controlling. What unites our team is the wish of always evolving and going the extra mile. We not only work together on delivery, but also on innovation. For instance, if someone manages to automate a certain step or process for their area, that information is shared with everyone on the team to streamline the overall process.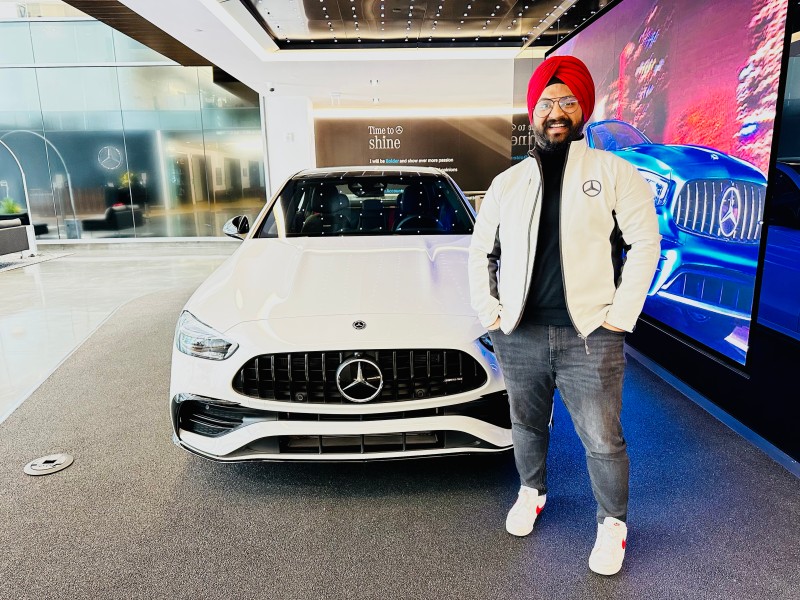 "I always wanted to know how design, efficiency and innovation could work in harmony. That's what motivated me".
What is most important for you when working with others?
The willingness to collaborate and to communicate openly – in my opinion, those are the two things that each team must have and that matter most.
Did you always know you wanted to work in the automotive industry?
Oh yes. Mercedes-Benz was my dream company from the beginning. Initially, I imagined working in direct contact with dealers at the dealership at an early stage, but when I was offered a management traineeship with R&D in 2013, I took the chance and did not regret it. I went from one position to the next and now I am working where I had originally hoped. The first step is what counts. The rest will follow.
So the traineeship was the first step into your career with Mercedes-Benz?
Absolutely. When I started at Mercedes-Benz for the trainee programme, I was in Corporate Communications for a while and I met many people. It helped me understand the big picture of the company. After-sales seemed more creative and interesting to me, so I transferred there after my traineeship. At first, I was in charge of service and contract management but my goal was to work with Dealers and parts distribution center in the NAFTA region that supports various markets. Bit by bit, I got closer to my goal – with patience and ambition.
How is Mercedes-Benz as an employer in your opinion?
Mercedes-Benz is amazing. As a global employer, the company offers me so many new experiences with markets like Poland, Japan and NAFTA. The international presence, which it gives me as an IT expert, is incredible. I also appreciate the corporate culture and the opportunity to be close to our products. In India, for instance, I got to test drive a G-Class, an off-road vehicle icon. Moreover, here in the USA, I took part in a product experience with an EQS SUV and I had goosebumps. I also got to host the Annual Days for Mercedes-Benz R&D India in Bangalore. These are the times when the company provides opportunities beyond my job and allows me to progress.
What fascinates you about the automotive industry?
As a kid, there were very few luxurious cars, where I grew up. But I knew one thing: the most desirable cars always have new features for a few years before hitting the mainstream. That fascinated me. I always wanted to know how design, efficiency and innovation could work in harmony. That's what motivated me. After all, I wanted to drive a fancy car like that too one day (laughs).
Last but not least, we have a question on a completely different subject: You love capturing the moment with your camera. What are some examples?
Basically all impressions of my road trips. Because my parents live in India and can't be here, I share my videos with them. I can show them in real time where I am and what I'm doing. It is important for me to let them know, how I am doing. I'm giving back to them what they gave to me as a child. They always used to tell me about their work and what they did, which made me happy. So, when I show them a video from Charleston now, they know exactly where I was and what I did there. I upload the videos to YouTube and encourage my family in India to do the same with their experiences – our digital world makes these connections possible.
Where do you want to take your camera next?
I definitely want to visit the Auto show's in Las Vegas to take pictures of the automakers' new product lines and experience this event.
Damanpreet grew up in Prayagraj, northern India. As a major Hindu pilgrimage site, it hosts Kumbh Mela, one of the world's largest religious festivals held about every 12 years. After his IT studies at the Birla Institute for Technology in Mesra, he moved to Bangalore in the south of India in order to earn his MBA. During his subsequent traineeship at Mercedes-Benz R&D India he met his wife, who also works for Mercedes-Benz USA in Atlanta. The next destination for this car-loving couple is California, where they will visit cities like San Diego, San Francisco and/or Los Angeles. If it were up to Damanpreet, it would be in his dream car, the G-Class. Until then, while on the road they will think about possible improvements to the vehicle equipment – for the optimal customer experience.