March 30, 2023 – At its ESG (Environment, Social and Governance) Conference 2023 for investors and analysts, Mercedes-Benz underlined measures aimed at reducing the carbon footprint and creating lasting value for all stakeholders.
Video recordings as well as presentations for download can be found at the bottom of this page.
At Mercedes-Benz, we want to build the world's most desirable cars. And since there can be no luxury without sustainability, we have flipped the switch towards ESG – especially with our ramp-up of e-mobility. ESG enables long-term value creation. This includes mitigating risks and seizing opportunities in sustainable business. We intend to double down on both.
Accelerating electrification with a growing portfolio and a dedicated high-power charging network
Sales of Mercedes-Benz battery electric passenger cars, including smart grew by 67% in 2022. The company expects to approximately double sales of BEVs in 2023 and to reach up to 50% xEV sales by mid-decade. To further accelerate uptake, Mercedes-Benz will establish its own-branded global high-power charging network supplied with green electricity wherever possible. Within this decade, a total of more than 10,000 chargers will be installed in North America, Europe, China and other key markets. The network will be open to all brands with exclusive benefits such as pre-booking opportunities for Mercedes-Benz customers.
Decarbonising the supply chain and conserving resources through green energy and responsible sourcing
Mercedes-Benz is pursuing the goal of a green steel supply chain from 2039 at the latest, together with all its steel suppliers. Low-CO₂ steel, made from scrap, was already introduced into Mercedes-Benz vehicles. Furthermore, Mercedes-Benz is testing prototype parts including ultra-high strength martensitic steel from SSAB which contains almost fossil-free direct-reduced iron for series production. Mercedes-Benz was also the first car manufacturer to take an equity stake in Swedish start-up H2 Green Steel. Through this investment, Mercedes-Benz is promoting the transformation of the steel industry and intends to launch various vehicle models from 2025 which utilize almost CO₂-free steel. Mercedes-Benz also works on the decarbonisation of its aluminium supply chain. At least a third of the aluminium used in Europe for upcoming electric models will be produced with renewable energy, leading to CO₂ reductions of up to 50%. The company also started to test aluminium from Hydro (aluminium producer) with minimum 25% post-consumer scrap for safety-relevant structural castings. The aim is to begin using this material in series-production this year. Its CO₂ footprint is around 70% lower than that of conventional aluminium used in Europe. Together with Hydro the company aims to pilot very low CO₂ aluminium by 2030. Mercedes-Benz will extend its use of material certified from mine to supplier according to the standards of the Aluminium Stewardship Initiative.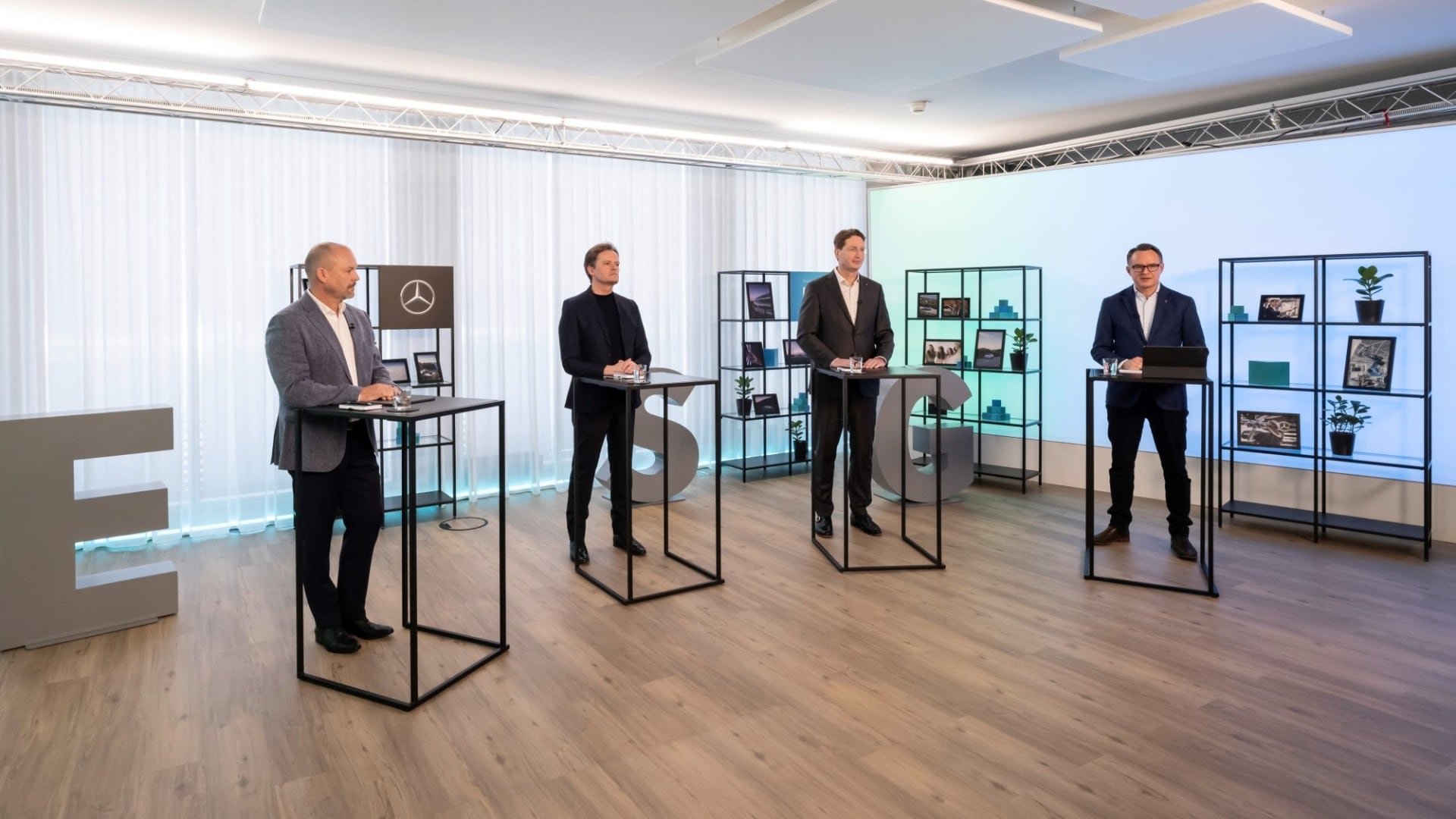 Mercedes-Benz Group ESG Conference 2023: Q&A Session with (from left) Jörg Burzer, Markus Schäfer, Ola Källenius and Steffen Hoffmann.
Driving the circular economy and direct sourcing of raw materials
By the end of 2023, the new battery recycling factory in Kuppenheim, Germany, will start ramping up operations. Thanks to an innovative mechanical-hydrometallurgical process, Mercedes-Benz will achieve a recycling rate of more than 96% some months later. Pending the outcome of promising discussions with the public sector - Kuppenheim aims to have the ability to recycle more than 2,500 tonnes of battery modules per year. Mercedes-Benz is also expanding the use of net carbon-neutral cells and batteries. By focusing on the cathode material, Mercedes-Benz aims to reduce the CO₂ footprint of cells by 40%. Further reduction is targeted through use of renewable energy to produce and refine raw materials. In 2022, the company signed a contract with Canadian-German start-up Rock Tech Lithium for the supply of an average 10,000 tonnes lithium hydroxide starting in 2026. Rock Tech shall mine the lithium in Canada from sites audited according to the mining standard of the Initiative for Responsible Mining Assurances (IRMA) and refine it in Germany. Moreover, both partners will cooperate in creating a roadmap to achieving net carbon-neutral production of lithium hydroxide by the end of 2030. The ground-breaking ceremony for the plant in Guben took place in March 2023. In China, Mercedes-Benz is also working with strong partners to close the loop of recyclable materials on an industrial scale.
Aiming for 80% fewer CO₂ emissions in production by 2030¹
Since the beginning of 2022, production sites worldwide fully owned by Mercedes-Benz have been net carbon-neutral. Today 45% of overall energy used in production at Mercedes-Benz plants comes from renewable sources, in large part thanks to 100% green electricity supplies. Mercedes-Benz has already achieved its 2030 target of a 50% CO₂ emissions reduction² – as approved by the Science based target initiative (SbTi) - in 2022¹. The company aims for an 80%¹ cut in CO₂ emissions by 2030 and intends to increase renewable energy to account for 70% of overall energy needs at own production sites, not least through increased on-site generation capacity. Mercedes-Benz is focusing on the expansion of photovoltaic systems at its own sites: Up to 140 megawatt peak (MWp), equivalent to one million square meters of new solar panels will be installed until 2025. Expanding the energy portfolio to include wind power from onshore and offshore wind farms is another focus in the company's energy strategy. The new solar systems and wind farms will help Mercedes-Benz to secure around 50% of its future total electricity requirements in Germany. In the offshore sector, Mercedes-Benz concluded a Power Purchase Agreement (PPA) with Iberdrola – one of the global market leaders in the renewable energy sector – for the supply of electricity from the Windanker wind farm in the Baltic Sea. This contract alone allows Mercedes-Benz to secure more than 140MW of renewable electricity from 2027 onwards, covering around 30% of the company's electricity needs in Germany. Regarding onshore, Mercedes-Benz will build a wind farm with a double-digit number of wind turbines at its test site in Papenburg, Germany, by middle of the decade. The ambition for all Mercedes-Benz production plants worldwide is to run 100% on renewable energy with zero CO₂ emissions by 2039. In logistics, the aim is to avoid and reduce CO₂ emissions through process optimization. An important factor is the switch from road to rail, wherever economically possible. Mercedes-Benz is also investigating innovative concepts such as freighters powered by sail. The company has signed a Letter of Intent with Wallenius Wilhelmsen (Global Shipping and Logistic Solutions Company) to transport cars from Europe to the U.S.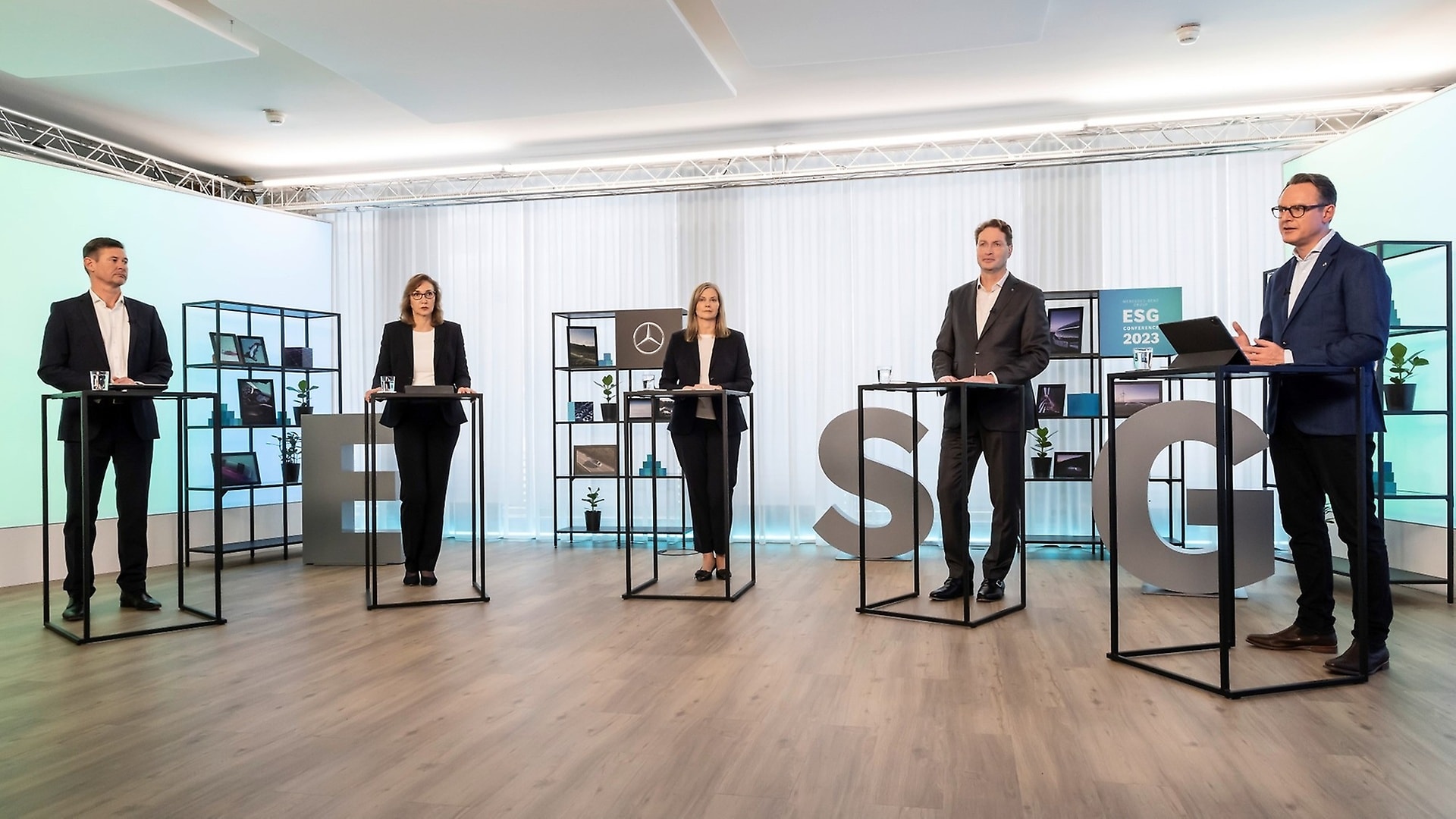 Mercedes-Benz Group ESG Conference 2023: Q&A Session with (from left) Harald Wilhelm, Renata Jungo Brüngger, Sabine Kohleisen, Ola Källenius and Steffen Hoffmann.
¹compared to 2018 ²Scope 1 and 2
Rebroadcast
Focus Sessions Part I (E topics)
Focus Sessions Part II (S+G topics)
Presentations ESG Conference 2023