April 11, 2022 – At its first digital ESG (Environment, Social and Governance) Conference for investors and analysts, the inventor of the automobile announced measures aimed at cutting CO₂ emissions, creating lasting value for all stakeholders. As stated at the COP26 UN Climate Change Conference in November 2021, Mercedes-Benz is committed to a faster transition to electric cars.
The desire for individual mobility keeps growing. Our mission is to meet this need in a sustainable way. Mercedes-Benz has a clear roadmap how to become carbon-neutral. By 2030, we want to reach the half-way mark. In order to make faster progress in protecting the climate we need maximum dedication and more collaboration among governments, companies and society as a whole.
The company aims to at least halve CO₂ emissions per passenger car over the lifecycle by the end of this decade compared to 2020 levels. To achieve this goal, the key levers include: electrifying the vehicle fleet, charging with green energy, improving battery technology, an extensive use of recycled materials and renewable energy in production. Mercedes-Benz plans to cover more than 70 percent of its energy needs through renewable energy by 2030 by rolling out solar and wind power at own sites as well as through further Power Purchase Agreements.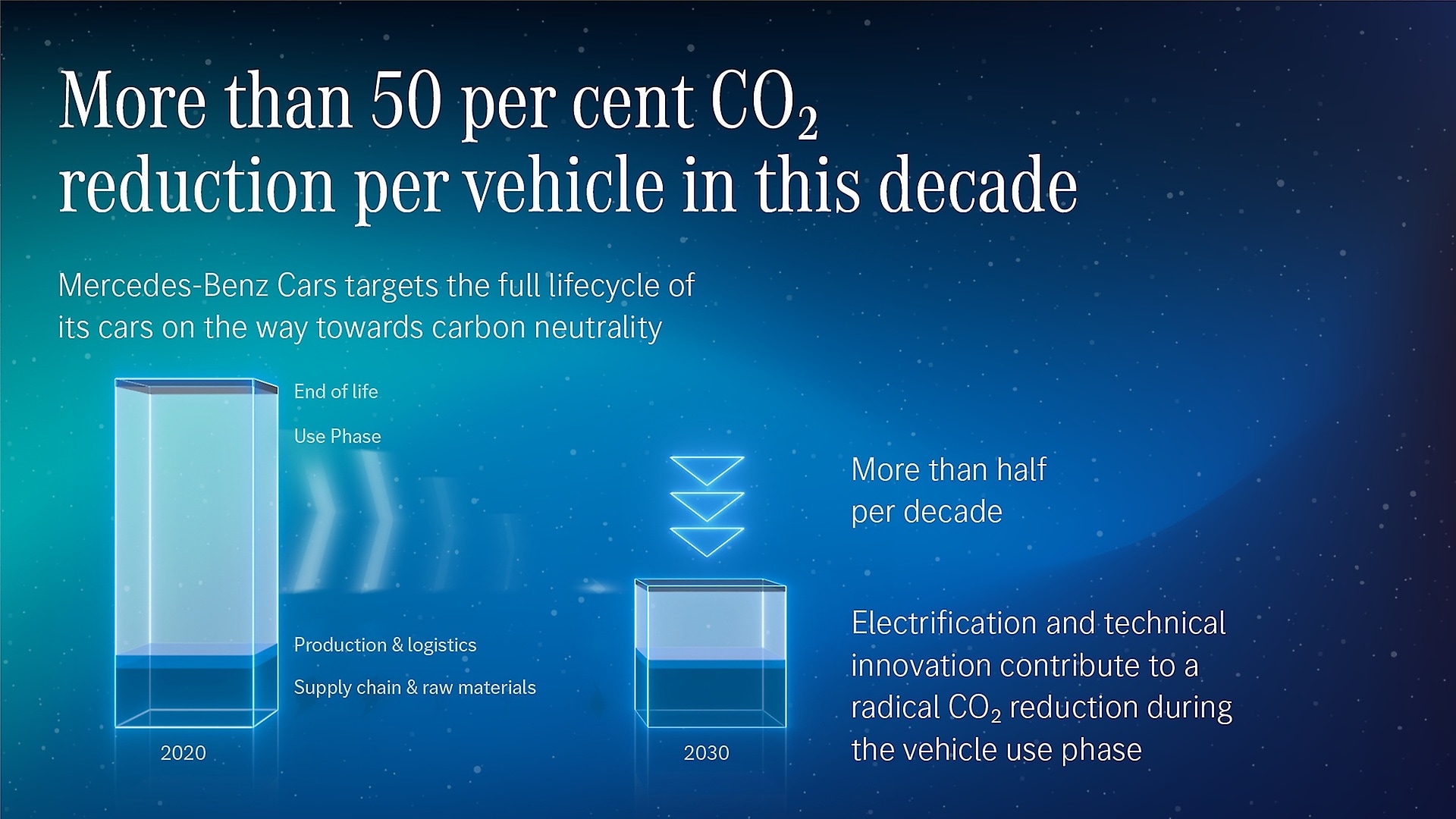 The bigger picture – Environmental, Social and Governance responsibility go hand in hand
Mercedes-Benz has been producing CO₂-neutrally in all own plants as of this year. In addition, the company aims to further expand production of renewable energy by rolling out solar and wind power at all sites.
Mercedes-Benz has a holistic concept of ESG across all departments. The transition to CO2-neutrality and the associated expansion of electric mobility bring many challenges, including those relating to raw materials such as cobalt or lithium, and supply chains. As part of the risk-based Human Rights Respect System Mercedes-Benz increases transparency and takes appropriate measures in relation to 24 raw materials with an elevated risk. The corporate ambition is to ensure that human rights are respected along the entire supply chain: from the mines where raw materials are obtained to the processing companies, and finally to own production.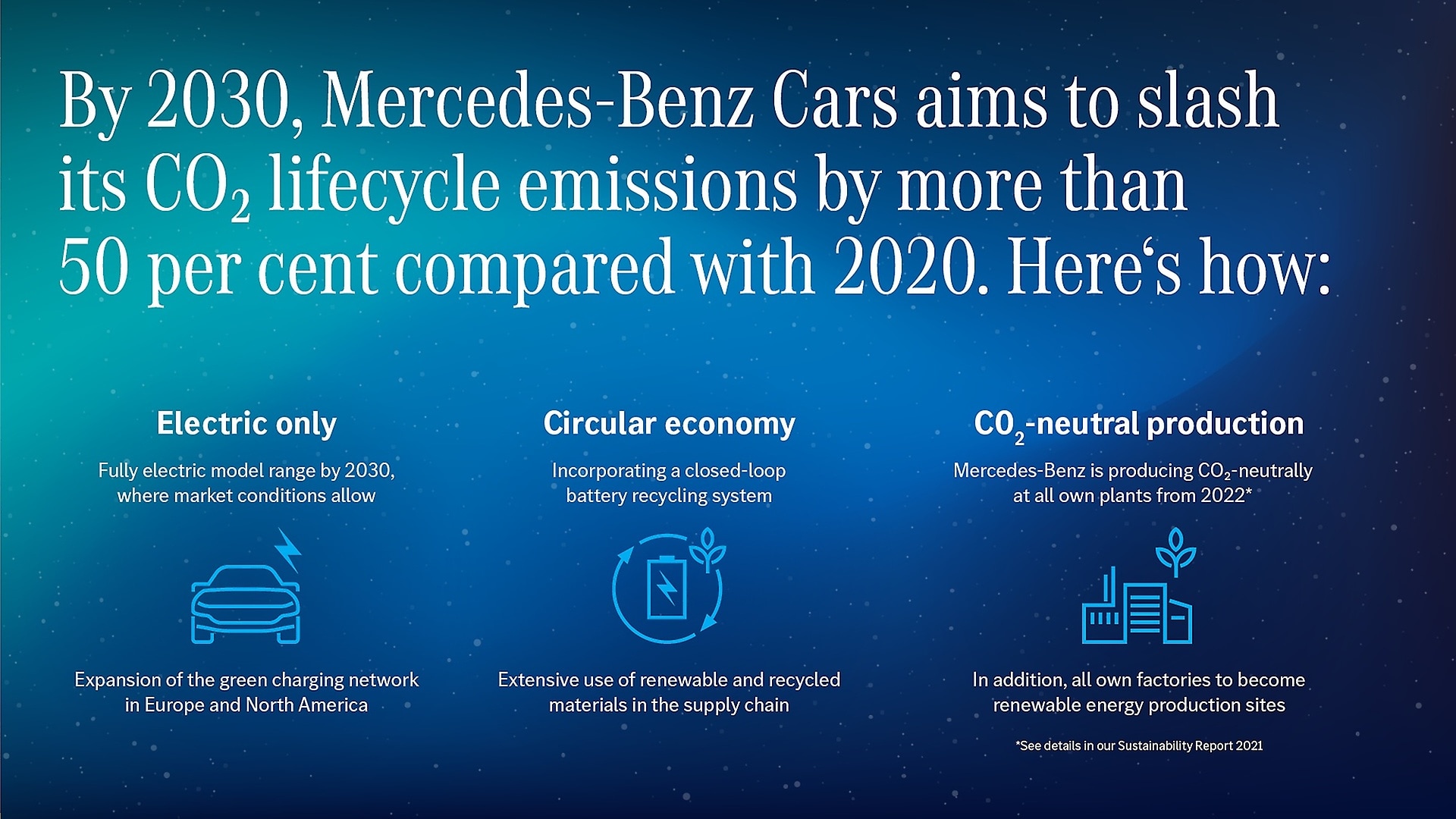 Along with sustainability and integrity, diversity forms the foundation of the sustainable business strategy of Mercedes-Benz. The company is convinced that sustainable success can only be achieved with diverse teams. One area of action for Diversity & Inclusion Management is the advancement of women. They make up the equivalent of 37.5 percent of the Board of Management of Mercedes-Benz Group AG: Three of the eight members of the Board. Mercedes-Benz wants more qualified women in senior management positions and is aiming for a share of 30 percent in 2030.
The shift towards climate neutrality is changing the financial world and green financing is gaining in importance. Therefore, the variety of green financing instruments like "Green ABS" and green KPI-linked bilateral funding agreements will be increased. Mercedes-Benz also expects a significant increase in EU taxonomy aligned CapEx until 2026 in accordance with its all-electric strategy. Analysis of the ESG ratings of Mercedes-Benz is an important aspect to identify and close transparency gaps. In 2021, the company was able to significantly improve those ESG ratings.
Rebroadcast of the ESG Conference
Focus Sessions Part 1 (E topics)
Focus Sessions Part 2 (S+G topics)
Wrap up