A fully electric future of mobility – Mercedes-Benz is committed to this. A core element of our sustainable business strategy is Ambition 2039, with which we already set the course in 2019 for a holistic approach to climate protection and air pollution control. The ambition is to make our entire fleet of new vehicles net carbon-neutral along the entire value chain and over the vehicles' entire life cycle by 2039 – from technical development to the extraction of raw materials, to production, service life and recycling. By 2030 we aim to at least halve CO₂ emissions per passenger car over the lifecycle by the end of this decade compared to 2020 levels. To achieve this goal, the key levers include electrifying our vehicle fleet, the use of renewable energy in production, improving battery technology, extensive use of recycled materials and charging vehicles with green energy¹.
Already a broad portfolio of all-electric vehicles
By the end of this decade, we will be ready to go all-electric wherever market conditions allow. We already offer a broad portfolio of battery-electric vehicles – from the compact EQA to the spacious EQS SUV. From 2025 onwards, all new vehicle architectures will be exclusively electric. Mercedes-Benz is managing this accelerated transformation while sticking to its profitability targets.
By 2026, we will have invested more than 60 billion euros on the transformation to achieve a fully electric and software-driven mobility. The faster expansion of compelling electric vehicles on offer will accelerate the breakthrough of electric mobility.
Net carbon-neutral production since 2022
Since 2022, the production of vehicles and batteries at all of Mercedes-Benz's own plants has been net carbon-neutral. This includes around 30 passenger car, van, and powertrain locations worldwide. In addition, we are striving to expand solar and wind energy at our own locations. Solar plants with an output of more than eleven MWp (megawatt peak) will go into operation by the end of 2023. We will invest a three-digit million sum in the installation of photovoltaic systems by 2025. Furthermore, we plan investments worth one billion euros in new power purchase agreements from wind parks by the middle of the decade. By 2030, the plan is to cover more than 70 per cent of energy demand in our own Mercedes-Benz production plants with renewable energies. We also aim to reduce water consumption in production compared to 2018 by 33 per cent by 2030.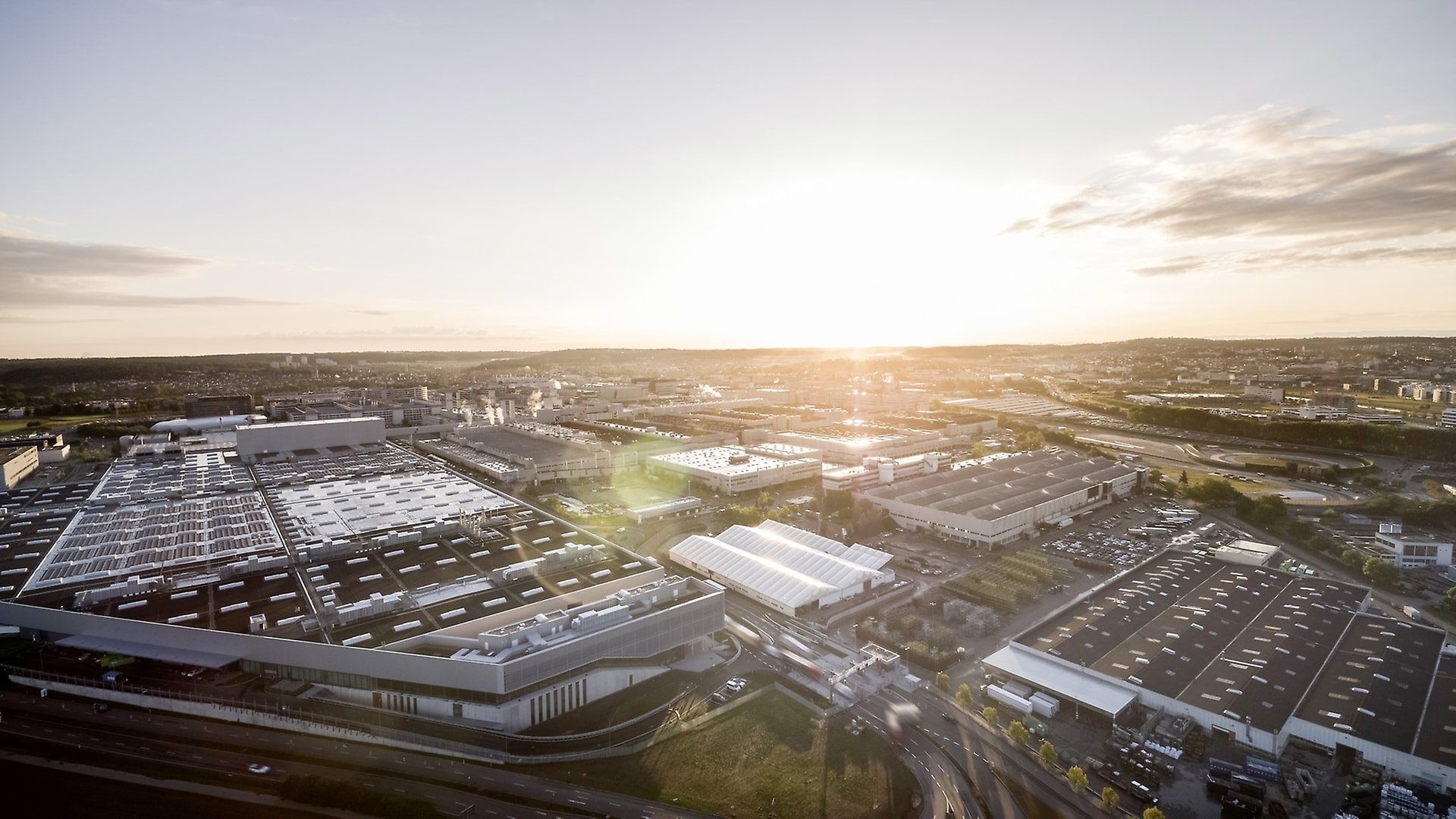 Factory 56 bird's view
"Factory56", one of the most modern automotive production facilities in the world, entered operation at the Mercedes-Benz Sindelfingen plant in 2020. It embodies the future of production at Mercedes-Benz and sets new standards for automotive manufacturing. In line with Ambition 2039, Factory 56 is net carbon-neutral and produces with a significantly reduced energy requirement. This is made possible, among other things, by an innovative energy concept with a photovoltaic system, a DC grid and a stationary energy storage system based on recycled vehicle batteries.
Extraordinary green power concept
Mercedes-Benz is currently implementing a green power concept in Germany with the energy supplier Enovos and the Norwegian energy producer Statkraft. Since 2022, we have been purchasing electricity that comes exclusively from renewable sources. A green power supply contract ensures the purchase of electricity from renewable energies at all times.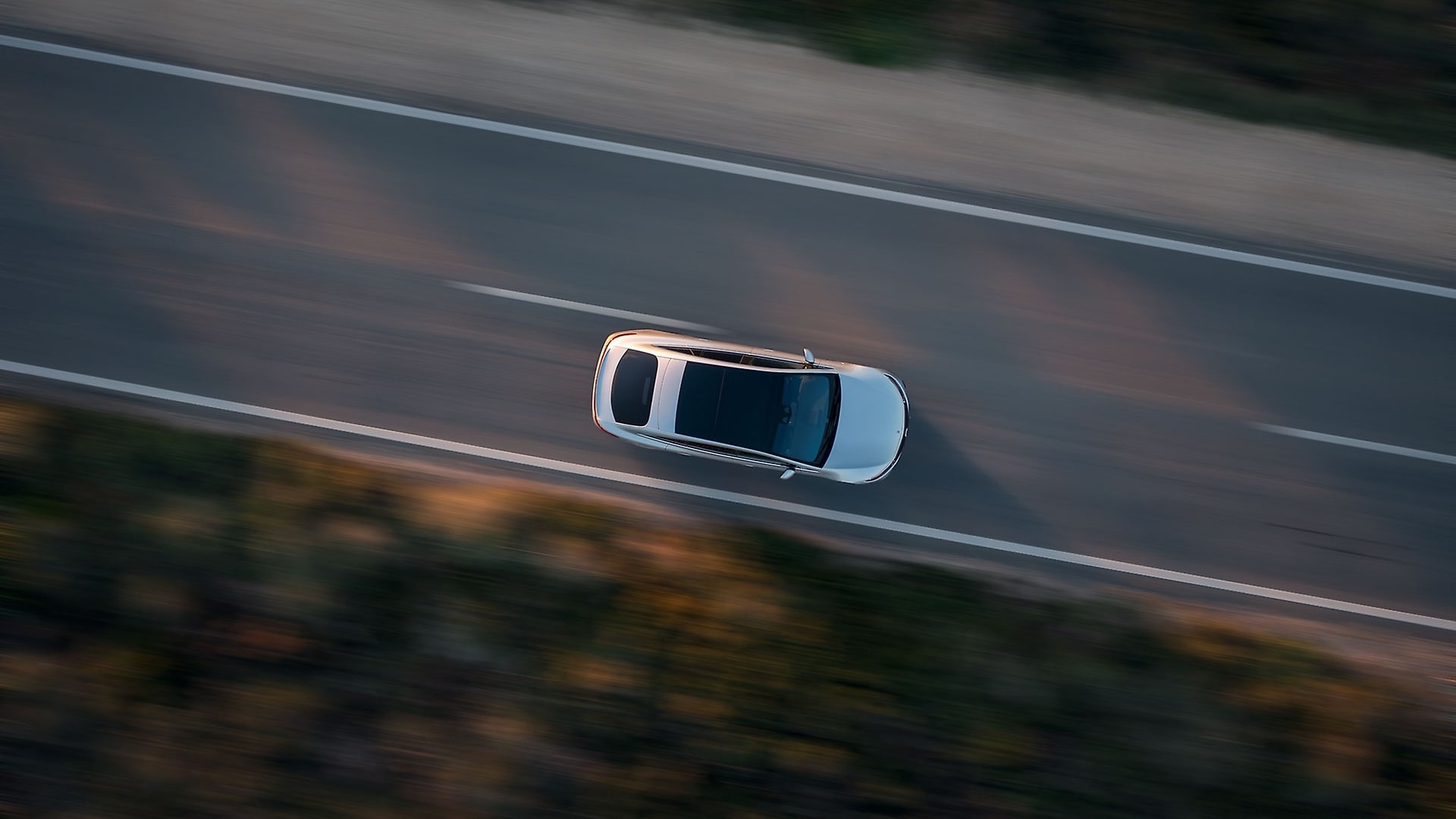 Together for climate protection
» Key criterion for supplier selection: With its Ambition 2039, Mercedes-Benz is pursuing the goal of offering net carbon-neutrality along the entire value chain in our fleet of new vehicles in less than 20 years. However, the transformation to electric mobility increases the energy demand in the upstream supply chain. A holistic approach on the path to all-electric mobility therefore also includes our suppliers. Together with our partners in the supply chain, we want to implement effective climate protection measures. Our goal is to prevent, minimise or, as far as possible, eliminate potential environmental impacts along our supply chain. The starting point is the creation of transparency.
In doing so, we focus on materials and components that are particularly CO₂-intensive in production and processing. The focus components include aluminium, steel, and battery cells. We have already reached some important milestones here: we have made net carbon-neutral cell production a central requirement for all our battery cell partners. This allows us to reduce emissions in battery production by around 30 per cent. In addition, both segments are engaged in ongoing negotiations with other players in the supply chain – including electrode producers, refineries and mines. Our flagship EQS was the first vehicle with cells produced in a net carbon-neutral way. The net carbon-neutral production at the partners was additionally verified and confirmed by the expert and testing organisations SGS and DEKRA.
In addition, we address CO₂ emissions in our supply chain via the so-called "Ambition Letter". For new contracts, we only accept suppliers who have confirmed in writing that they will supply us with CO₂-neutral products from 2039 at the latest - and thus meet our climate targets. This means that only when the Ambition Letter has been signed suppliers do have a chance of being selected for the contract. In this way, we create a good basis for initiating actual reductions with our direct suppliers and in the supply chain. Suppliers representing almost 90% of Mercedes-Benz's annual purchasing volume have already signed an Ambition Letter, agreeing to supply us only with CO₂-neutral products in the future.
Together with our suppliers, we are also working on a green, net carbon-neutral steel supply chain. We are already sourcing steel from Salzgitter AG and Big River Steel with a significantly reduced carbon footprint using recycled steel scrap. In the future, we will in addition purchase steel whose production is almost fossil-free due to the switch to new technologies. To this end, we became the first car manufacturer to take a shareholding in the start-up H2 Green Steel and have agreed a partnership with the Swedish steel manufacturer SSAB.
Aluminium, together with steel, is proportionally the most widely used material in many vehicles and is gaining in importance in electric vehicles. Therefore, we are also pursuing a clear roadmap of a green aluminium supply chain – and have already reached important milestones.
In Europe, at least one third of the aluminium we use in our upcoming electric model generation is produced with renewable energy. Together with the Norwegian aluminium producer Hydro, we are going one step further and developing a technology roadmap to decarbonise the aluminium supply chain by 2030. Hydro is already supplying our foundry in Stuttgart Mettingen with CO₂-reduced aluminium. The strategic cooperation takes the collaboration to a new level: the first material from Norway with a CO₂ reduction of almost 70 per cent compared to the European average and a scrap content of 25 per cent has already been tested and is scheduled to go into series production this year. By 2030, we want to reduce the aluminium footprint with Hydro by more than 90 per cent with the help of new innovations. However, we are not only concerned with further reducing emissions. Another goal is to reduce the use of primary resources by increasing the use of secondary materials from post-consumer scrap.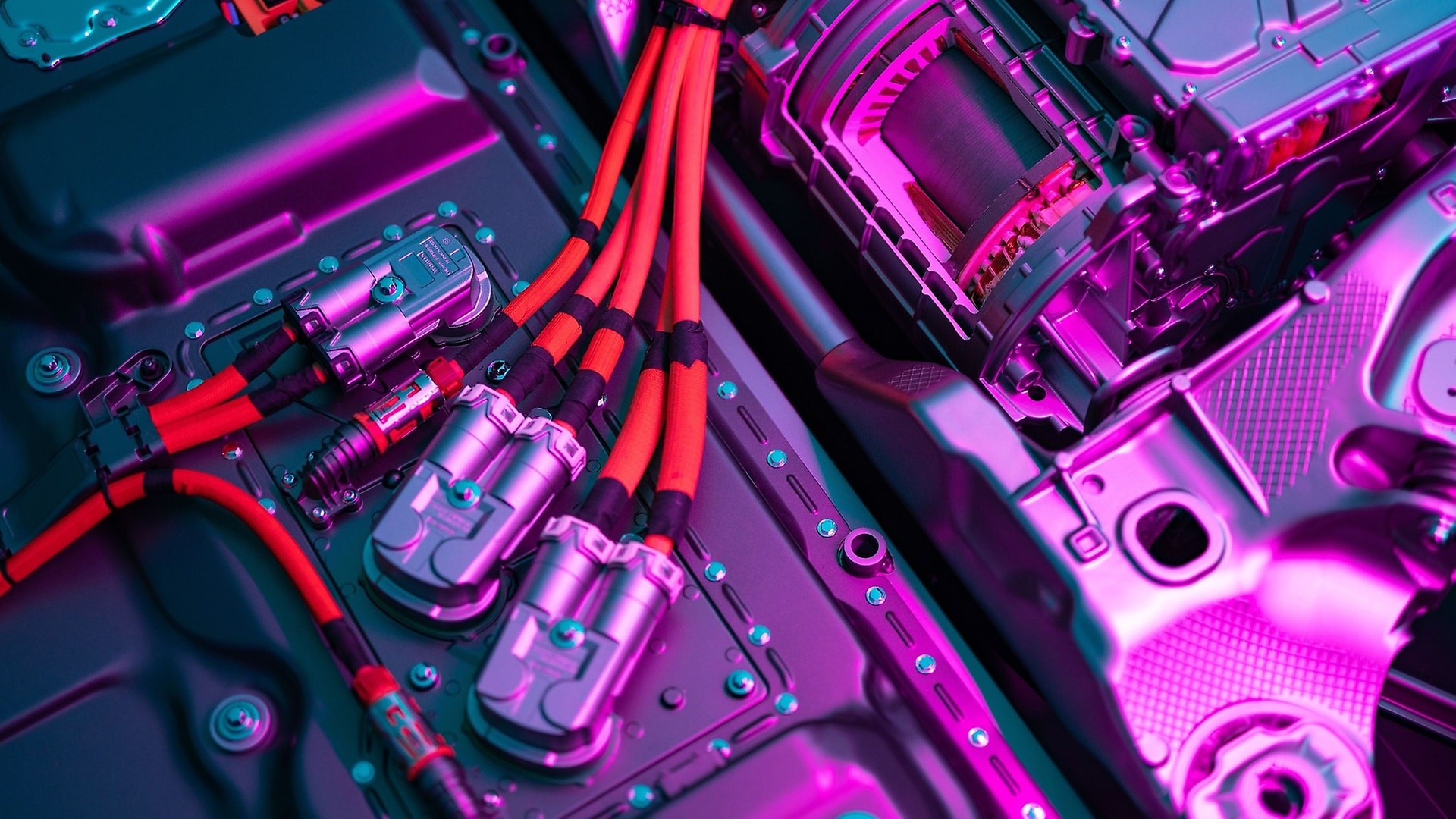 » Audited mining of cobalt and lithium: We rely on sustainable supply chains for our electric fleet and think about the responsible use of raw materials right from the start. Our goal is to ensure that our products contain only materials, raw and otherwise, that have been mined and produced without violating human rights and environmental standards. We therefore require our direct suppliers to comply with our Sustainability and Responsible Sourcing Standards and to carry them into their upstream value chains as well as to monitor their compliance. Mining audit is another important tool to carry out due diligence in raw material supply chains and to address environmental and human rights risks that depend on the on-site management of the mine. In addition, Mercedes-Benz makes the "Standard for Responsible Mining" of the "Initiative for Responsible Mining Assurance" (IRMA) a key criterion for supplier decisions and contracts in raw material supply chains and will only work with suppliers who agree to these requirements. We also have the cobalt supply chains of our battery cell suppliers audited by the external audit company RCS Global. All stages of the supply chain are audited according to OECD guidelines.
For years, we have also been investing in resource-efficient technologies and manufacturing processes for batteries and are working to further reduce the use of critical materials. The cobalt content in the cathodes of the EQS battery cells, for example, is less than ten per cent and has been significantly reduced compared to the previous battery generation. In the future, we want to use post-lithium-ion technologies with new material compositions to completely eliminate materials such as cobalt. The further optimisation of recyclability and its implementation is also part of our holistic battery strategy.
» Circular economy in battery systems: As part of our holistic approach, we also think about the circular economy when developing battery technology. In March 2023, we laid the symbolic cornerstone for a battery recycling factory based on hydrometallurgy at the Kuppenheim site. In the future, it will cover all steps from dismantling at module level, through crushing and drying, to processing the material streams to battery quality. The process design should enable recovery rates of more than 96 per cent. Mercedes-Benz is also cooperating with high-tech partners for battery recycling in China and the USA.
» Extensive use of recycled materials: We work intensively to close material loops and increase the proportion of recycled materials to conserve primary resources, avoid waste and thus also reduce CO₂ emissions. As early as the design stage of our vehicles, we reconsider the composition of all materials used and examine possibilities for more sustainable alternatives. By 2030, we want to increase the share of recycled materials in our vehicle fleet to an average of 40 per cent. In addition to steel and aluminium, innovative recyclates are already in use. For example, the cable ducts of the EQS and EQE are made of the plastic substitute UBQTM, which is produced from upcycled household waste. The floor coverings in the EQS and EQE SUV contain a nylon yarn derived from recyclable materials such as fishing nets and carpets. For the EQE, EQE SUV and the S-Class, bow door handles made from chemically recycled materials are available. In their production, fossil raw materials are replaced by biomethane and pyrolysis oil from recycled used tyres. In the vehicle interior, in addition to a high-quality artificial leather and a microfibre fleece, we offer various fabrics made up to 100 per cent from recycled PET bottles.
More information on handling risk raw materials.
More information about the Supplier Ambition Rating for sustainable supply chains.
A sustainable mobility experience
Green Charging: Around 50 per cent of the CO₂ footprint of a battery-electric vehicle is produced during the use phase with the current EU energy mix, owing to charging processes that emit CO₂.
With Mercedes me Charge, we have been enabling our customers to charge with green electricity¹ at public charging points in Europe, the USA and Canada since 2021. Mercedes me Charge is integrated into one of the world's largest and steadily growing charging networks with more than 1.1 million charging points – around 450,000 of which are in Europe. In addition, Mercedes-Benz is building its own global high-power charging network in North America, Europe, China, and other core markets with around 2,000 locations and over 10,000 charging points by 2027. In line with its sustainable business strategy "Ambition 2039", Mercedes-Benz enables Green Charging for its customers within its own charging network. This is ensured preferably via green electricity supply contracts wherever possible or by using renewable energy certificates from an accredited supplier.
The central aim of the brand is to offer customers more than just an unrivalled electric driving experience. With our EQ models, you are immersed in a completely new Mercedes world that thrills not only the mind but also the heart with its technical possibilities and sustainable innovations. This exciting, unrivalled experience goes well beyond the product itself. With Green Charging, we actively contribute to reducing our carbon footprint and are thereby leading the way to the net carbon-neutral mobility of the future with our Ambition 2039.
» Mercedes me Eco Coach: To give customers special support when switching over to the age of electric mobility, we have developed an intelligent, digital personal trainer: the Mercedes me Eco Coach. Customers who follow the recommendations and hints in the app not only get to know their alternative-drive car better – they also improve their driving style and thereby protect the environment.
¹Green Charging ensures that the appropriate amounts of green energy are fed into the grid after the charging process. Guarantees of origin or Renewable Energy Certificates are used for this purpose, which verifiably certify the origin of the energy and serve as a kind of birth certificate for electricity from renewable energies. The green electricity is defined by the EKOenergy eco-label, which is provided by certified energy production plants.