Daimler-Benz, an all-rounder of the automotive industry, retained its outstanding position in the international motor-vehicle markets in the 1960s and 1970s while the industry overall was subject to sharp fluctuations in sales. In Europe, Daimler-Benz was leader both in the production of cars for a discerning clientele, as well as trucks and buses.
With the significant increase in sales and production in the 1960s and 1970s the company continued the steady upward trend that had prevailed since war's end and was not even interrupted by the oil crisis of 1973, an unusually difficult year for the international automotive industry.
With new structures and model series Daimler Benz opened up new dimensions in the car and truck sectors. The company continued to aspire to offer premium products like the S-Class in all divisions and segments. In this way it managed to continuously extend the basis of its business.
In the commercial-vehicle sector, where a major role was played by Hanns Martin Schleyer, the company's leading position in the automotive industry was consolidated through the expansion of the Wörth plant, the takeover of the commercial vehicle-sales company of Krupp in 1968 and the commercial-vehicle manufacturer Hanomag-Henschel in 1969, together with its production facilities in Kassel, Bremen and Hamburg-Harburg, and the purchase of heavy-duty truck makers Euclid in 1977 and Freightliner in 1981.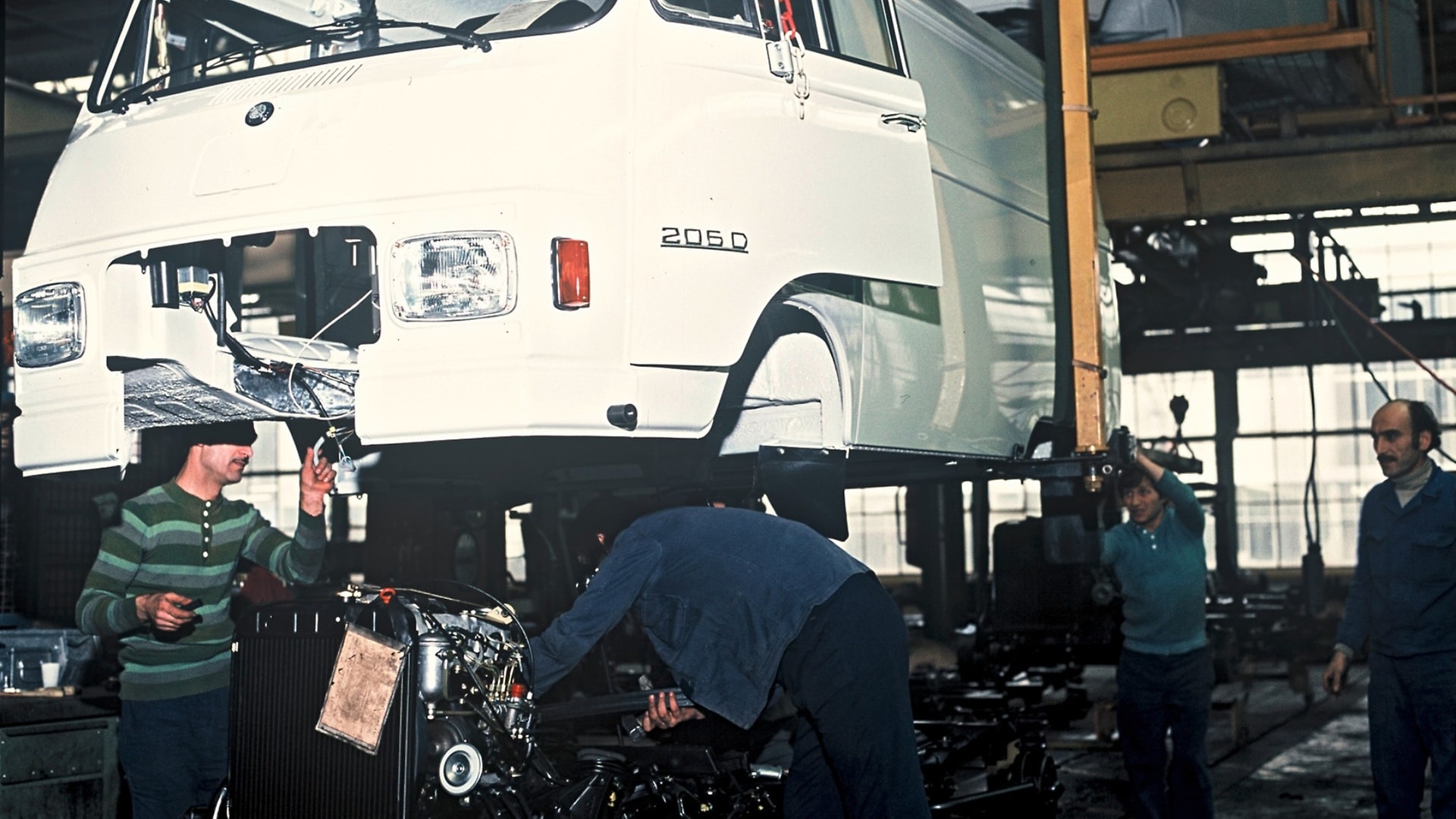 Vehicle plants in Hanomag-Henschel era, Bremen plant. Van production around 1970
In the area of passenger cars, after the sale of Auto-Union in 1965 the takeover of competitors in the small-car sector was considered several times, but in the end preference was given to growth from within. The introduction of the 190 model ("Baby Benz"), a car inextricably linked with Werner Breitschwerdt, extended the product range downwards. Having exhausted the possibilities for expansion in Stuttgart, the company used the Bremen plant for this purpose.
In the mid-1970s a fundamental change took place in the shareholder structure of Daimler-Benz AG. The Quandt Family sold its 14-percent share to the Government of Kuwait; the 29-percent block of shares held by Friedrich Flick was sold to Deutsche Bank and finally brought into Mercedes-Automobil-Holding (MAH).