January 10, 2023 – The world's most valuable luxury automotive brand finished 2022 with a strong final quarter, delivering 540,800 Mercedes-Benz Passenger Cars (+17%) to customers and achieving a rise in Top-End and Battery Electric Vehicle (BEV) sales. The October to December period marked the best quarter in 2022 for Top-End vehicles with sales up 14% thanks to robust demand in most regions, despite ongoing COVID measures, semiconductor and logistic bottlenecks throughout the year.
In a challenging 2022, Mercedes-Benz Passenger Cars delivered 2,043,900 vehicles (-1%) to customers. On its way towards an all-electric future, Mercedes-Benz global deliveries of xEV models (PHEVs and BEVs including smart) reached 319,200 units (+19%), representing 15% of overall Mercedes-Benz Cars retail unit sales in 2022. Mercedes-Benz Passenger Cars more than doubled BEV deliveries to 117,800 units (+124%). Including smart, almost every second Mercedes-Benz Cars xEV-sale was a Battery Electric Vehicle (44%). As part of its transformation to go all electric by the end of the decade wherever market conditions allow Mercedes-Benz announced plans for its own high-power charging network of more than 10,000 chargers worldwide ensuring effortless and rapid charging.
2022 marks another successful year in the transformation of Mercedes-Benz: We more than doubled our BEV sales, we demonstrated our high ambition in electric with the 1,200 km EQXX test drive and we achieved a new record year for Mercedes-Maybach with sales up 37%. In 2023 we will continue our mission to offer the most desirable electric cars and further grow our BEV and Top-End sales.
After another year with limited vehicle availability and supply chain bottlenecks, I am grateful for our customers' passion for our products and their ongoing trust in our brand. 2022 provided many highlights: We now have eight fully electric models in showrooms, we continue to lift the charging experience of our customers to another level and we were once again able to increase our brand value by 10% to remain the world's most valuable luxury automotive brand. 2023 will contain many milestones in the transformation of our customer experience with the introduction of our direct sales model in major markets like the UK and Germany.
Top-End Luxury
Deliveries to customers in the Top-End segment grew significantly in Q4 by 14% to 83,800 units, resulting in the best sales quarter for this segment in 2022. The main drivers in Q4 were sales of AMG (+28%), Mercedes-Maybach (+25%) and G-Class (+15%). Mercedes-Maybach achieved its best sales year with 21,600 units (+37%) delivered to customers. This growth was mainly supported by strong performances in Japan, Korea, the Middle East and especially China where Mercedes-Maybach delivered more than 1,100 units per month. S-Class deliveries increased to over 90,000 units, a plus of 5% versus the prior year period. In addition, the EQS was able to attract new customers to the Top-End segment. In 2022, 19,200 vehicles were delivered to customers with a strong demand from U.S. customers, making Q4 the best sales quarter for this all-electric flagship. The EQS SUV already received positive feedback in the U.S. and will be introduced in China early in 2023. Full year deliveries of Top-End vehicles were constrained by semiconductor shortages. In 2023, Mercedes-Maybach will become electric with the launch of the Mercedes-Maybach EQS SUV in the first half of the year.
Core Luxury
Deliveries to customers in the Core Luxury segment reached 1,101,800 units (+4%). Once again, the GLC was the best-selling Mercedes-Benz model with 342,900 units (+3%) in 2022. With its successor model, launched in mid of 2022, Mercedes-Benz aims to continue this success story. The C-Class saw deliveries rise 17% to 299,100 cars. The all-electric EQE is now available in all regions and has been delivered 12,600 times in 2022. The recently introduced EQE SUV can now be ordered throughout Europe. China and U.S. will follow in the first half of 2023. The Core Luxury segment will be further enhanced by the brand-new E-Class which will celebrate its world premiere in 2023.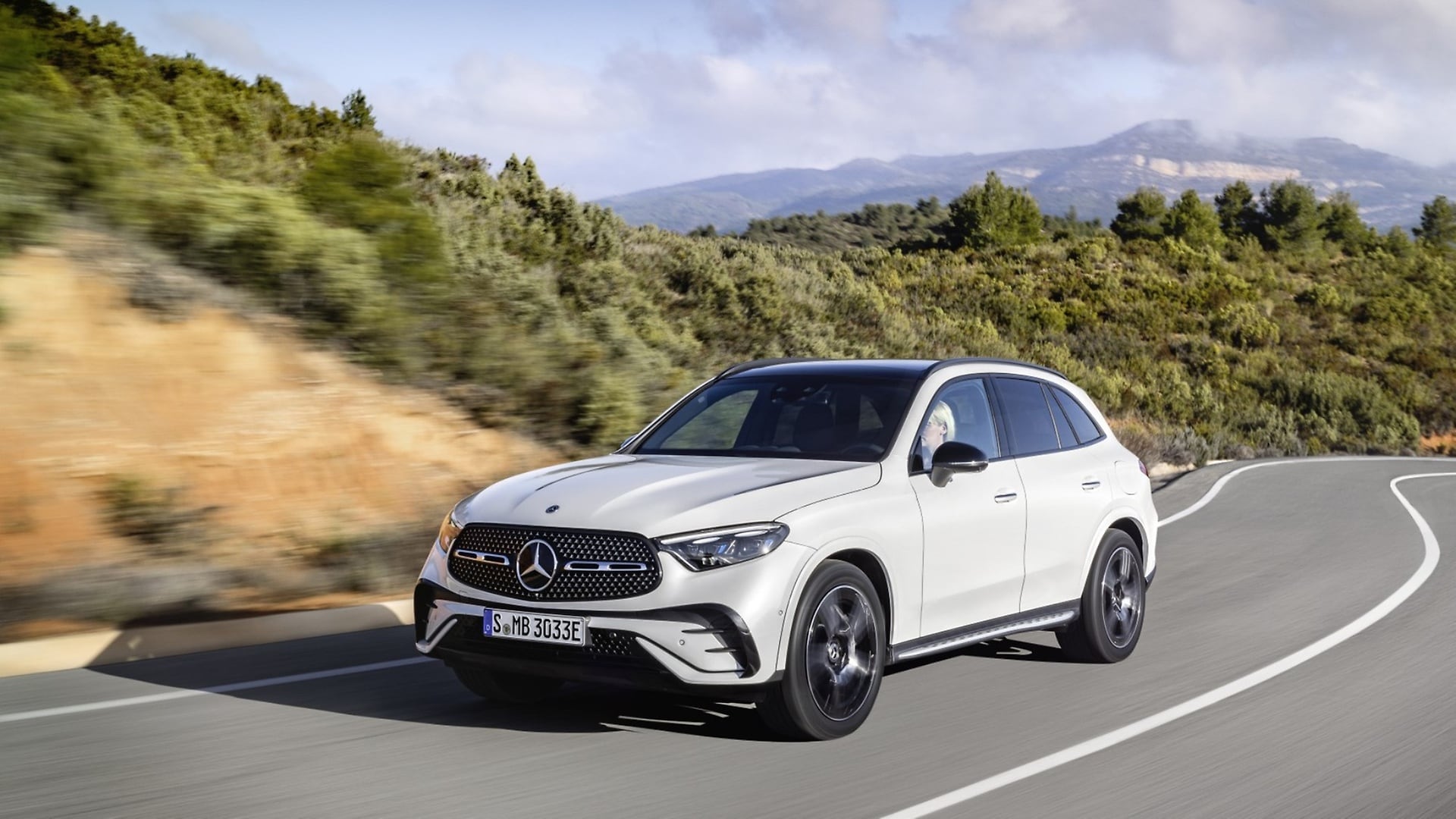 Mercedes-Benz GLC SUV plug-in hybrid.
Entry Luxury
Retail sales in the Entry Luxury segment reached 587,700 units (-10%) mainly impacted by supply chain and logistics bottlenecks. The EQA is the top-selling all-electric model with 33,100 units (+43%), followed by the EQB with 24,200 units (+>1,000%). The A- and B-Class received a model update in the last quarter of 2022 and are now available. BEV share doubled to 10% of sales in this segment.
Mercedes-Benz Passenger Cars retail deliveries to customers by regions and markets
Sales overview
Q4 2022
Change in %
Q1-Q4 2022
Change in %
*incl. V-Class, T-Class and EQV.
** Europe: European Union, United Kingdom, Switzerland and Norway
*** North America: USA, Canada and Mexico.
All figures rounded
Preliminary figures subject to change pending final reports

Mercedes-Benz Cars wholesale unit sales
536,000

+7%

2,040,500

+5%

Mercedes-Benz Passenger Cars retail
deliveries to customers*

540,800

+17%

2,043,900

-1%

- thereof BEVs excl. smart

42,400

+122%

117,800

+124%

Mercedes-Benz Passenger Cars retail deliveries to customers by regions and markets*
Europe**

177,100

+14%

635,100

+1%

- thereof Germany
74,700
+23%
229,500
+8%
Asia
257,400
+21%
987,800
+1%
- thereof China
189,100
+13%
751,700
-1%
North America***
82,100
+17%
327,000
+3%
- thereof U.S.
73,000
+21%
286,800
+4%
Rest of World
24,300
-9%
94,000
-27%
Mercedes-Benz Vans increases deliveries worldwide by 4% in 2022
Mercedes-Benz Vans aspires to offer the most desirable vans & services and to be a leader in the field of electric mobility. In 2022, despite ongoing global challenges in the areas of parts supply and logistics, 411,000 units were handed over to customers worldwide, 4% more vans with the three-pointed star, of which around 14,700 were eVans (+15%). Mercedes-Benz Vans already offers four models with battery-electric drive. From the first quarter of 2023, the small vans eCitan and EQT (power consumption combined (WLTP): 18.99 kWh/100 km; combined CO₂ emissions (WLTP): 0 g/km)*, will also be available, so that the entire product range will then be electrified. The Van division is thus once again underlining its ambitions and showing that the strategy is taking effect.