January 05, 2023 – Mercedes-Benz announces far-reaching plans to launch a global high-power charging network across North America, Europe, China and other key markets. It will begin to be built this year in the US and Canada, followed by other regions around the globe.
The aim is to have the full network in place before the end of the decade, when Mercedes-Benz intends to go all-electric wherever market conditions allow. The Mercedes-Benz high-power charging network will greatly enhance customers' charging experience, accelerate the journey towards the all-electric future and create a global infrastructure asset with future value-creation potential. The Mercedes-Benz charging hubs will be located in key cities and urban population centres, close to major arteries, convenient retail and service destinations, including participating Mercedes-Benz dealership sites.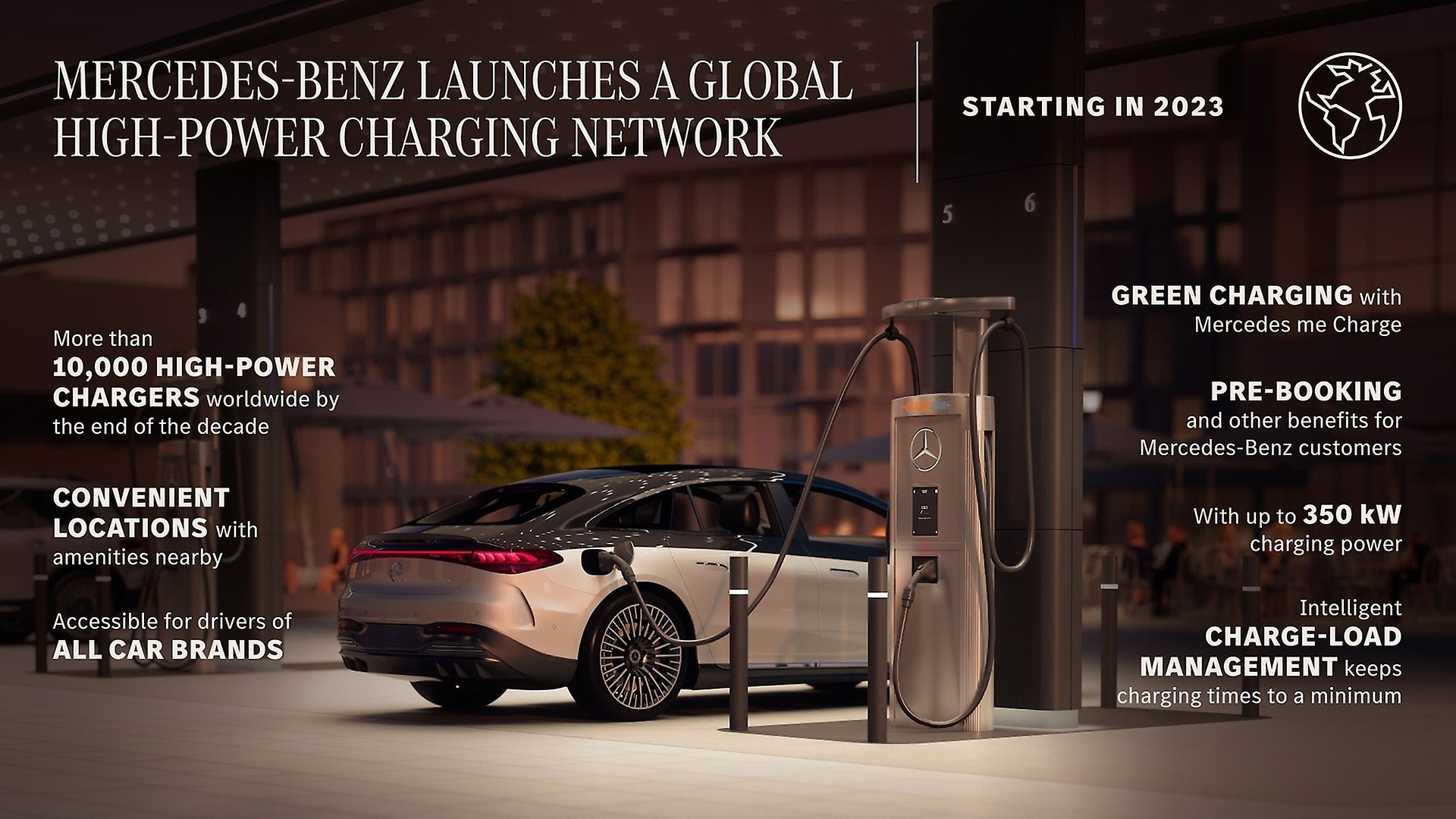 The company believes this strategic move will significantly enhance the usability and convenience of its new generation of electric vehicles, differentiate the Mercedes-Benz ownership experience and accelerate the EV transformation. The charging network will focus first and foremost on Mercedes-Benz customers, who will enjoy preferential access via a reservation function and other benefits. However, it will also be open to drivers of all other brands with compatible technology. This comprehensive initiative, alongside ongoing support for shared networks such as IONITY, also aims to drive global adoption of electric mobility.
Mercedes-Benz kicks off charging rollout in North America
At CES 2023 in Las Vegas, Mercedes-Benz announced that the rollout of its high-power charging network will start this year in North America. The collaboration partners here include MN8 Energy, one of the largest solar energy and battery storage owners and operators in the US, and ChargePoint, a leading EV charging network technology company. By 2027, a network totalling more than 400 hubs across North America with more than 2,500 high-power chargers is planned to offer a premium, sustainable and reliable charging experience.
Mercedes-Benz already offers what we believe to be the finest EVs in the market. But to accelerate the electric transformation, we need to ensure that the charging experience keeps pace as well. Our customers deserve a compelling charging experience that makes electric vehicle ownership and long-distance travel effortless. We won't take a wait-and-see approach for this to be built. That's why we are launching a global high-end charging network. It's designed to become another differentiator of Mercedes-Benz ownership for our customers and an asset with value creation potential for our company. We are excited to start right here in North America with strong and experienced partners like MN8 Energy and ChargePoint.
An elevated charging experience the Mercedes-Benz way
For those traveling long distances, Mercedes-Benz Electric Intelligence navigation makes life easy by automatically optimising route planning, incorporating the best charging points and reserving spaces in advance. The system knows the capacity utilisation at the respective locations and ensures customers can gain immediate access to the reserved charging point at the required time. This means no waiting for Mercedes-Benz customers. The seamless experience will be further enhanced by the easy and convenient "Plug & Charge" function¹. The charging station communicates directly with the vehicle via the charging cable. Manual authentication via card, app or head unit will not be required² but possible. Mercedes-Benz customers can use this function via the Mercedes me connect service Mercedes me Charge³. All other customers will have straightforward access to a wide array of payment functions. After a smooth, fast and relaxing charging experience, users will be able to continue effortlessly on their way.
Depending on region and location, the hubs will offer 4 to 12, and ultimately as many as 30, high-power chargers (HPC) with up to 350 kW of charging power. Intelligent charge-load management will allow each vehicle to charge at its maximum capacity keeping waiting times to an absolute minimum. The optimised station layout will ensure plenty of space around the vehicle as well as unhindered charging from either side. Where feasible, charging points will be covered for protection from the weather.
The locations and surroundings of the Mercedes-Benz charging hubs will be carefully selected with wider customer needs in mind. The best possible charging experience will therefore come with food outlets and restrooms situated nearby. Facilities will also be equipped with surveillance cameras and other measures to provide a safe and secure charging environment.
More sustainable with green charging
In line with its sustainable "Ambition 2039" business strategy, Mercedes-Benz strives to enable its customers to charge with green energy at its own charging network. Preferably ensured via green electricity supply contracts or by using renewable energy certificates from an accredited supplier. Selected Mercedes-Benz charging hubs will also be equipped with photovoltaic systems to provide electricity for lighting and video surveillance, for example.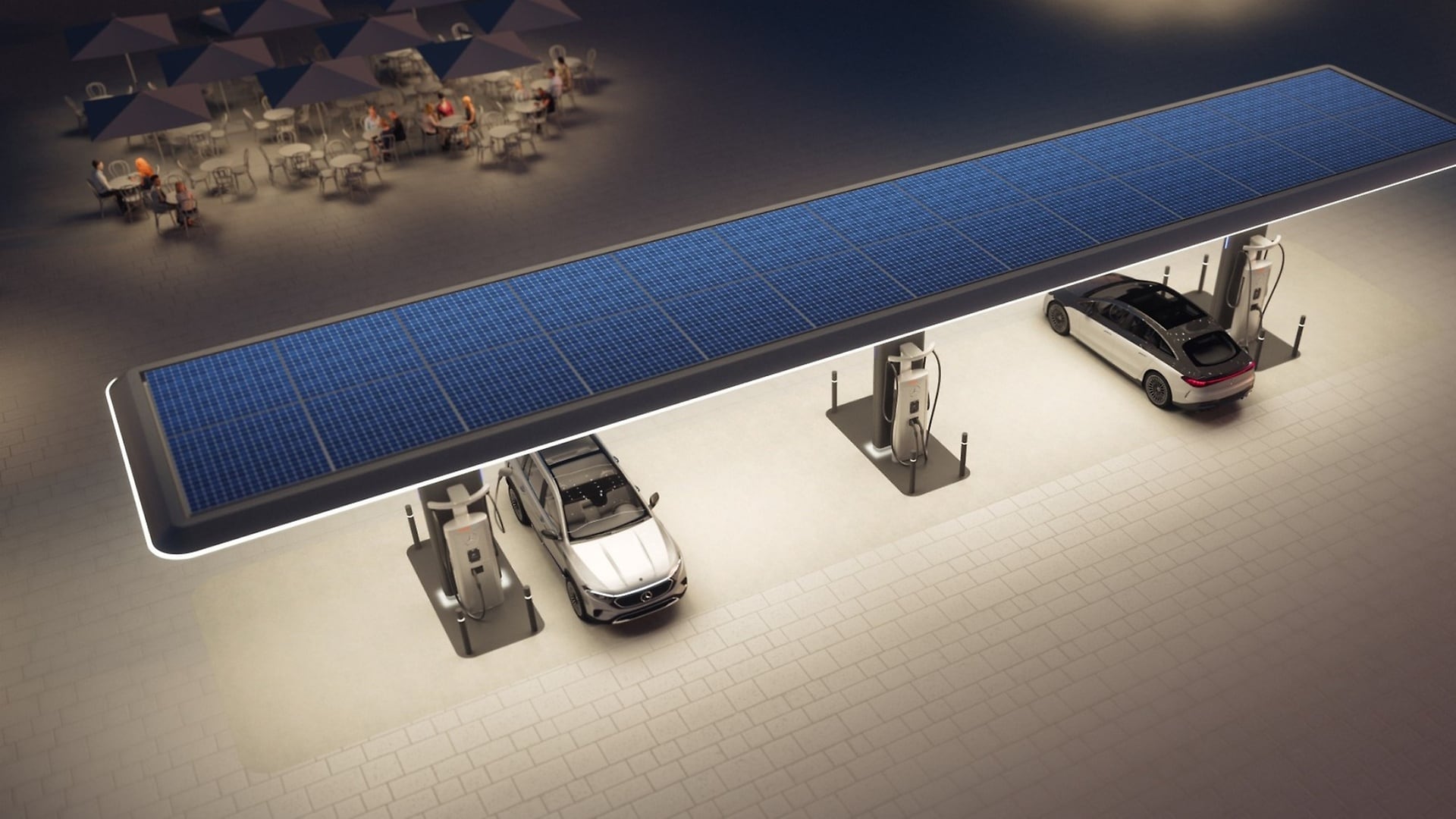 Planned Mercedes-Benz charging station with photovoltaic system.
Focused capital spending
The total investment cost for the North American network will be just over 1 billion Euros, deployed over the next 6-7 years. The capital for this will be provided by Mercedes and MN8 in a roughly 50:50 split.
The setup of the stations itself is favoured by the high degree of commonality in the network and a modular, scalable site design. The company believes the global reach and prime locations of its charging network means it is also likely to become an asset in its own right. This has the potential to create additional value for the company's shareholders.
The Mercedes-Benz high-power charging network is the next essential step forward in the company's electrification strategy. All business linked to its charging ecosystem will be bundled within Mercedes-Benz Mobility .
MN8 Energy and ChargePoint as partners
By selecting MN8 Energy and ChargePoint as partners in North America, Mercedes-Benz is working with two of the leaders in their respective fields.
MN8 Energy is one of the largest solar energy and battery storage owners and operators in the US. By providing comprehensive, end-to-end project development, energy management, and exceptional maintenance and operations support to the Mercedes-Benz branded high-power charging network in the US, the company continues to focus on accelerating the transition to sustainable mobility. MN8 Energy is strategically well-aligned with the Mercedes-Benz "Ambition 2039," and MN8 Energy supports Mercedes-Benz's aim to maximise access to green charging for its customers throughout the US.
ChargePoint has powered approximately five billion electric miles so far. By leveraging ChargePoint's expertise, Mercedes-Benz, a long standing shareholder, aims to deliver first-class convenience and reliability for its customers. ChargePoint already serves as the Mercedes-Benz backend provider in the US for Mercedes me Charge and has demonstrated a strong track record in software stability and hardware provision.
Mercedes me Charge
The establishment of the Mercedes-Benz high-power charging network marks an expansion of existing charging offers. Through Mercedes me Charge, the company already offers its customers access to around one million charging points worldwide, including the pan-European fast charging network IONITY, which is operated by Mercedes-Benz and other OEMs.
¹Plug & Charge is available with EQS, EQS SUV, EQE, EQE SUV, current plug-in hybrids C- and S-Class and GLC with optional direct-current charging system (DC charging). The customer needs to activate the Plug & Charge service in the overview of services.
²Only available with EQE, EQE SUV, EQS, EQS SUV and latest plug-in hybrids of C-and S-Class and GLC, the plug-in hybrids need to be equipped with the optional direct-current charging system (DC charging) and the customer needs to activate the Plug & Charge service in the overview of services.
³In order to use the Mercedes me connect service Mercedes me Charge, a personal Mercedes me ID and agreement to the Mercedes me connect Terms of Use are required. Furthermore, a charging contract is required.