March 14, 2023 – Mercedes-Benz Group AG's sharpened focus on high-end passenger cars and premium vans, combined with tight cost control, helped to lift Earnings Before Interest and Taxes (EBIT) by 28% to €20.5 billion (2021: €16.0 billion) last year, outpacing a 12% rise in revenue to €150.0 billion (2021: €133.9 billion) during the same period.
Transformation continues
In its first year after the Daimler Truck spin-off, Mercedes-Benz Group continued its transformation amid geopolitical and macroeconomic challenges. Strong results underline the improved profitability, even as the COVID-19 pandemic and semiconductor supply-chain bottlenecks and the fallout from Russia's war against Ukraine continued to affect the business.
2.45mn
Group Unit Sales
2021: 2.32 mn
€ 150bn
Revenue
2021: € 133.9 bn
€ 20.5bn
EBIT
2021: € 16.0 bn
€ 8.1bn
Free Cash Flow Ind. Business
2021: € 7.9 bn
€ 13.5
Earnings per share
2021: € 10
€ 5.20
Dividend
2021: € 5.00
Dividend: Subject to approval by the shareholders at the annual meeting 2023.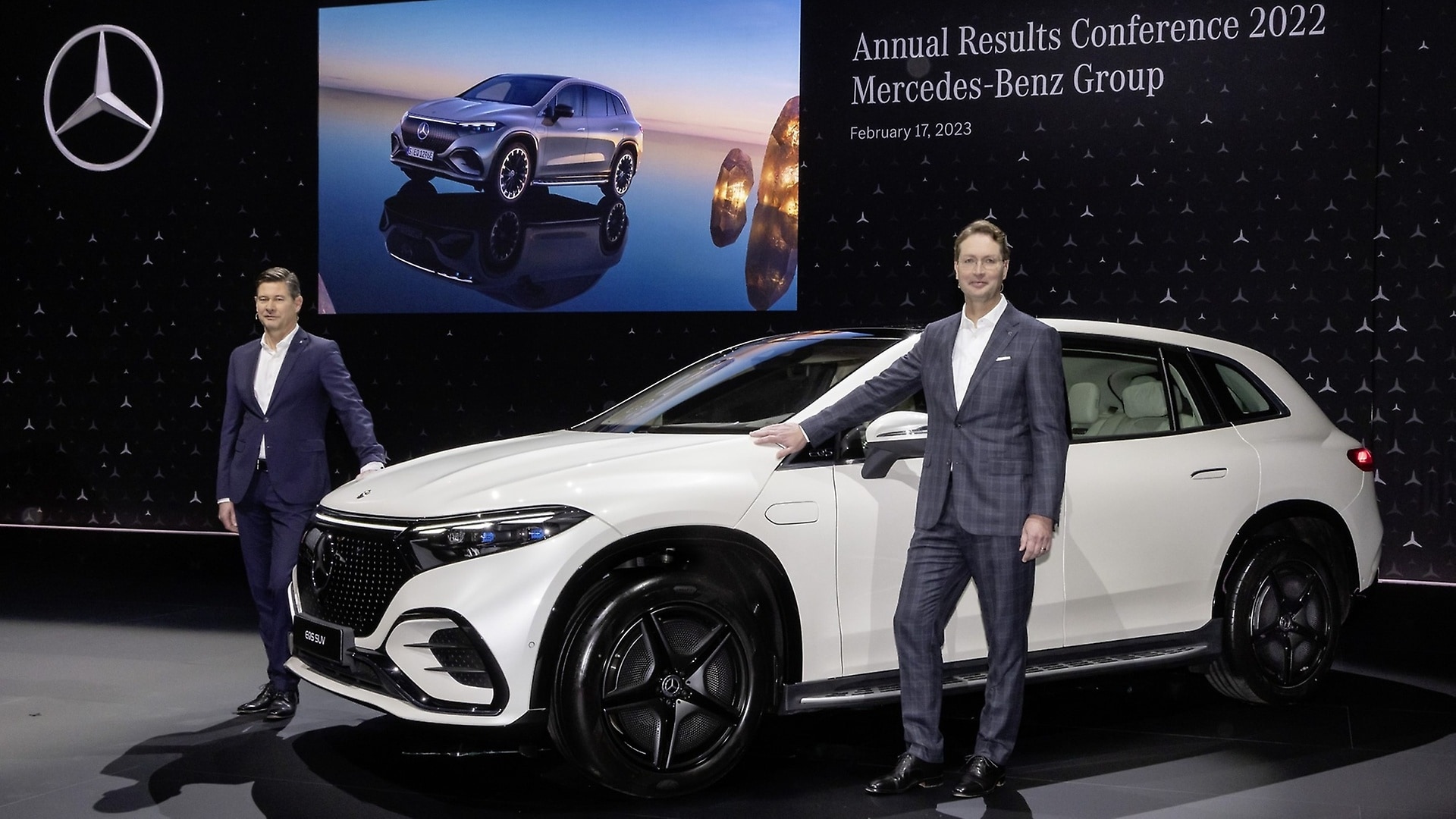 Harald Wilhelm and Ola Källenius.
Mercedes-Benz expanded its offering of battery electric vehicles to 9 cars and 4 vans, including the new EQS SUV and EQE SUV and most recently unveiled a new eSprinter. To scale manufacturing of zero-emission vehicles, the Mercedes-Benz cars and vans production network was retooled, and new deals with suppliers were struck. Mercedes-Benz will source battery cells from a new factory built by Contemporary Amperex Technology Co., Ltd (CATL) in Debrecen, Hungary. An annual supply agreement for an average 10,000 tonnes of lithium hydroxide from Canadian-German start-up Rock Tech Lithium Inc. was signed. In addition, Mercedes-Benz announced plans to launch a global high-power charging network across North America, Europe, China and other key markets.
Investments, free cash flow and liquidity
The free cash flow of the industrial business rose to €8.1 billion (2021: €7.9 billion). The net liquidity of the industrial business rose to €26.6 billion (end of 2021: €21.0 billion). The Group's investments in property, plant and equipment in the full year totaled €3.5 billion (2021: €4.6 billion¹). Research & development expenditure amounted to €8.5 billion (2021: €9.1 billion¹).
¹In 2021, Daimler's commercial vehicle business is included until the time of the spin-off and hive-down
We have redesigned Mercedes-Benz to be a more profitable company thanks to our focus on desirable products and disciplined margin and cost management. We cannot control macro or world events, but 2022 is a case in point that we are moving in the right direction.
Divisional results
In a challenging macroeconomic environment, Mercedes-Benz Cars sold 2,040,719 vehicles (+5%). In line with the strategy to focus on EVs, Mercedes-Benz had strong BEV sales of 149,227 units incl. smart (+67%). Sales in the Top-End segment increased by 8% driven by the S-Class (+6%) and additionally its all-electric version EQS, with more than 23,400 vehicles sold. Q4 marked the best sales quarter for this all-electric flagship. Furthermore, Mercedes-Maybach achieved a new record year with sales up 41%. Strong sales of C-Class, the top-seller GLC and the new EQE led to a rise in sales in the Core segment of 9%. The adjusted Return on Sales (RoS) for Mercedes-Benz Cars rose to 14.6% from 13.1% in the year-earlier period.
In the fourth quarter, deliberate decisions to make payments to selected suppliers and the impact of the so-called "inflation bonus" for eligible staff in Germany resulted in slight headwinds and an adjusted Return on Sales of a still high 13.4%.
At Mercedes-Benz Vans, full-year unit sales reached 415,344 vehicles worldwide (+8%), thanks to a comprehensive portfolio of commercial and private vans, despite the ongoing global challenges in the areas of parts supply and logistics. In the year under review, 15,000 eVans were sold (+15%), thereof around two thirds commercial eVans. The adjusted Return on Sales (RoS) for Mercedes-Benz Vans rose to 11.2% (2021: 8.3%). In 2022, the all-electric small vans eCitan and EQT [power consumption combined (WLTP): 18.99 kWh/100 km; combined CO2 emissions (WLTP): 0 g/km], were presented, so that the entire product range is fully electric. A few days ago the eSprinter had its world premiere.
Mercedes-Benz Mobility saw new business decline to €58.0 billion (2021: €63.6 billion). However, the prior-year figure still included the new business from Daimler Trucks & Buses prior to the Daimler commercial vehicle business spin-off. At the end of 2022, contract volume amounted to €132.4 billion and was thus at the same level as at the end of last year (2021: €133.7 billion). For financed and leased electric and hybrid vehicles, Mercedes-Benz Mobility was able to significantly increase its contract volume, compared to end of last year. Overall, in 2022 adjusted EBIT decreased to €2.4 billion (2021: €3.4 billion), driven by the increase in cost of credit risk caused by a subdued economic outlook as well as higher refinancing costs and lower volumes following to the Daimler Truck spin-off. Consequently, adjusted Return on Equity (RoE) was below the last year's level with 16.8% (2021: 22.0%).
Dividend and share buyback
At the Annual General Meeting on May 3, 2023, the Board of Management and the Supervisory Board will propose a dividend of €5.20 per share (2021: €5.00). For 2022 the total payout would amount to €5.6 billion (2021: €5.35 billion).
The Board of Management and the Supervisory Board of Mercedes-Benz Group AG have resolved to conduct a share buyback programme. Since March 2023, own shares worth up to EUR 4 billion (not including incidental costs) have been intended to be acquired on the stock exchange over a period of up to two years and shall subsequently be cancelled. The share buyback programme will be based on the authorization by the Annual General Meeting of Mercedes-Benz Group AG on July 8, 2020, authorizing the Board of Management to acquire, with the approval of the Supervisory Board, own shares up to a maximum of ten percent of the share capital until July 7, 2025.
Recording Annual Results Conference
English
German
Chinese
Conference language: English with simultaneous translation into German and Chinese.
Recording media analyst call
English
German
Chinese
Conference language: English with simultaneous translation into German and Chinese.
Recording media conference call
English
German
Chinese
Conference language: German with simultaneous translation into English and Chinese.