November 29, 2022 – Important factors for the life cycle assessment of an electric car include the production of the high-voltage battery and the external charging processes during vehicle operation. Mercedes-Benz bases its model calculations on two different assumptions: the standard scenario takes into account the country specific power mix for charging the high-voltage battery and production of the battery cells. In the regenerative scenario, however, energy from renewable sources is used in each case.
Both scenarios are based on a mileage of 250,000 km for the EQE. If energy from renewable sources (hydroelectric power) is used for cell production in China and charging power in Europe, the CO₂ emissions over the lifecycle can be almost halved.
The sustainability of the EQE at a glance:
The EQE achieves an excellent cd value as low as 0.22 thanks to its one-bow design and extensive aerodynamic measures.
184 components with a total weight of more than 78.3 kg can be made partly from resource-saving materials (recycled plastics and renewable raw materials).
The cell chemistry of the battery generation has also been optimised for sustainability: the active material consists of nickel, cobalt and manganese in a ratio of 8:1:1. The cobalt content is thus reduced to ten percent. Responsibly mined and processed raw materials provide the foundation for a sustainable Mercedes-Benz electric vehicle fleet.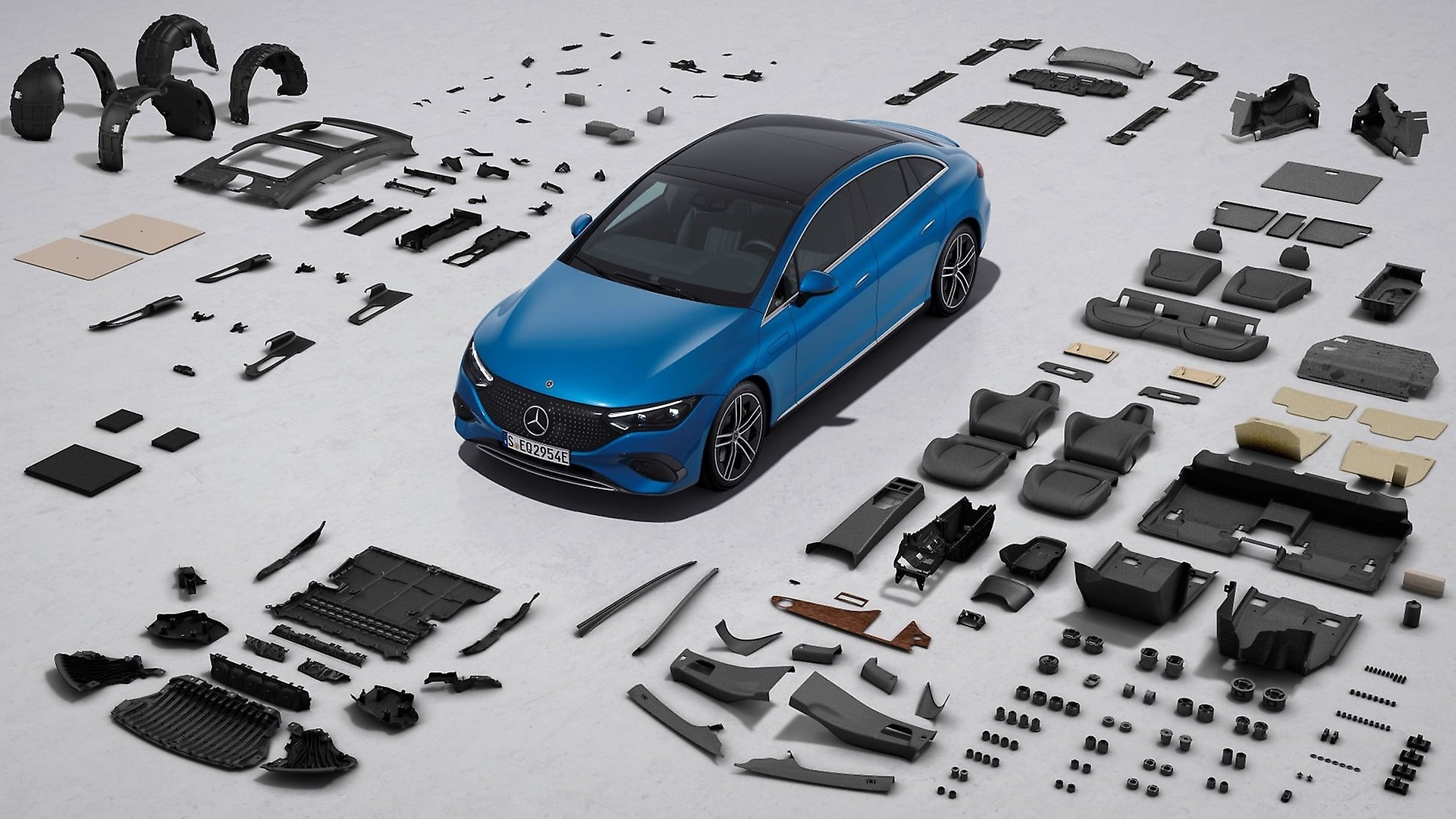 EQE with parts made from renewable raw materials and recyclates.
The majority of suppliers, who account for almost 90 percent of the annual procurement volume, have already signed an Ambition Letter. This declares their agreement to only supply parts produced in a CO₂-neutral manner in the future.
Since 2022, all company-owned Mercedes-Benz passenger car and van plants worldwide have been producing on a CO₂-neutral basis.
Since 2021, Mercedes-Benz has ensured a subsequent offset with green electricity when customers use Mercedes me Charge to charge their vehicles in Europe. Certificates of origin ensure that corresponding amounts of green electricity are fed into the grid for charged energy quantities after the actual charging process.