May 25, 2021 – Sustainable product development? Are you perhaps thinking of climate- and resource-friendly manufacturing processes or innovative closed-loop projects? Yes, those are all part of it. But in an increasingly digitalized industry, the sustainable development of future technologies also involves answering numerous and complex societal and legal questions - for example about responsible data handling.
Christoph Höhmann sees himself as a problem solver. The word "inventor" feels too big. And yet he is directly involved in the development of new products and technologies. The engineer with a Ph.D in thermodynamics is part of a team working in Mercedes-Benz' legal department on issues related to ethics and law in automated and connected driving. Höhmann joined Mercedes-Benz in 2003 as an engineer in engine development. At that time, he never imagined that he would eventually work in the Group's legal department. Nor did he imagine that the idea of automated driving, which back then still seemed a long way off, would at some point become part of his daily business.
These days he spends his time, day after day, weighing up the opportunities and risks of this new technology. Seeking solutions to the challenges that arise when automated systems, rather than humans, control the vehicle. The legal requirements are particularly high for vehicles designated Level 3 or higher, in other words vehicles that feature, at least, conditionally automated functions such as the DRIVE PILOT. "We are experiencing a fundamental change, on a scale never seen before in the 135-year history of the automobile," explains Höhmann.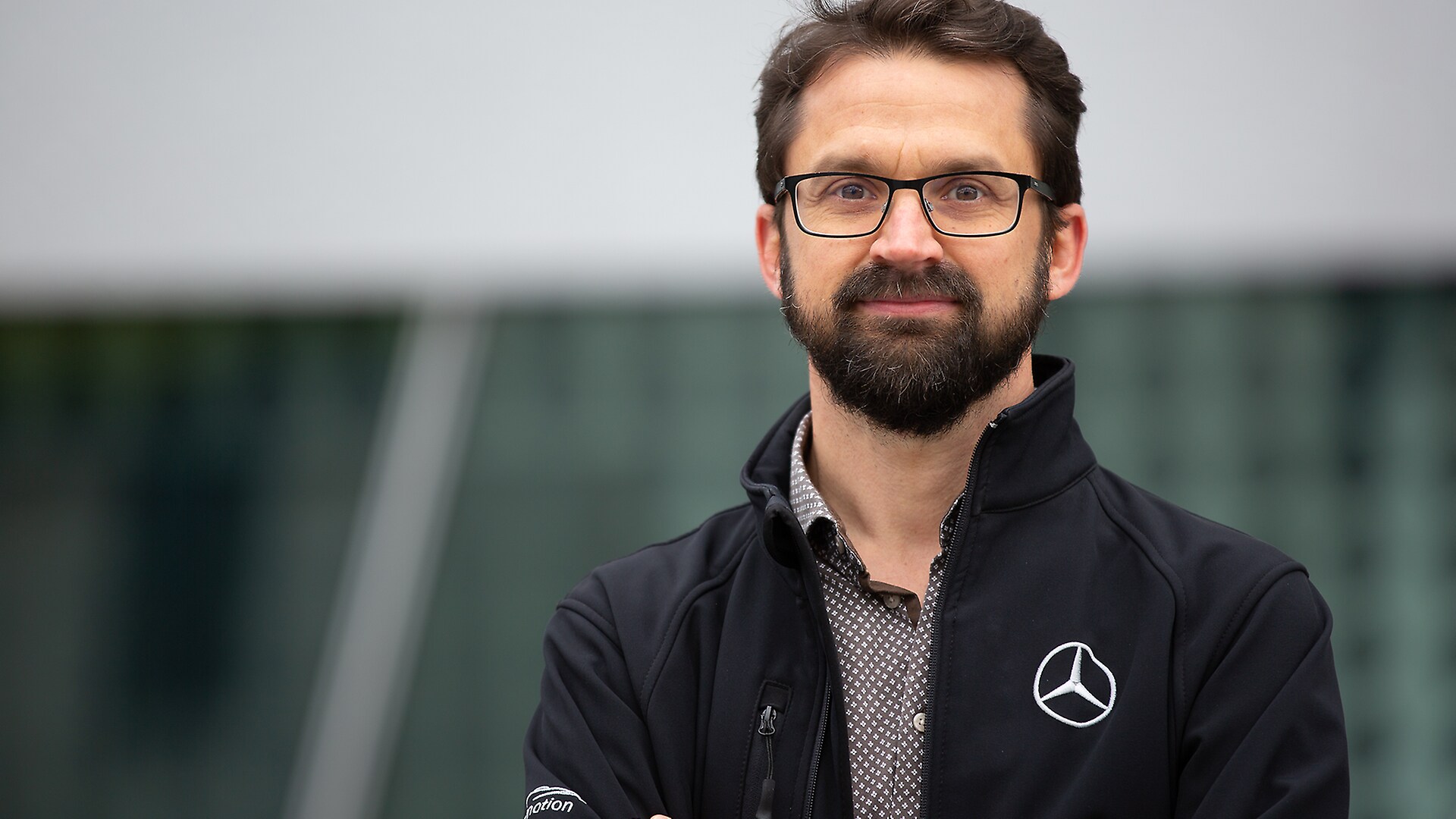 "We are experiencing a fundamental change, on a scale never seen before in the 135-year history of the automobile," explains Höhmann.
To enable highly automated vehicles (Level 4) to drive in defined areas on public roads in the future, the German Road Traffic Act was specifically amended. The law on automated driving came into force as long ago as 2017 and a further step towards regular operation was taken with the law on autonomous driving , adapted in 2020. In accordance with the amendments to the law, vehicles with automated driving functions must have those technical systems that enable the vehicle to comply independently with traffic regulations directed at the guidance of the vehicle. This may sound simple at first - but is very ambitious in terms of practical implementation. After all, the German Road Traffic Act (StVO) that defines the applicable traffic regulations in Germany is not designed as a template for programming technical systems.
"Our developers and programmers couldn't just take the Road Traffic Act and load it into their systems," explains Höhmann. "Nevertheless, together we have found a way here to translate the Road Traffic Act into machine language, so to speak." In months of work, he and the many other colleagues involved from the legal and compliance department, development, product safety and certification have examined every individual regulation of the Road Traffic Act and worked out ways of applying and implementing it technically. "The result of this cross-divisional collaboration is the Daimler Automated Driving Requirements - DADR for short. They help us to implement the complex requirements in terms of law, ethics and product safety," says Höhmann, pleased with the success. Thanks to his expertise in vehicle development on the one hand, and in law and compliance on the other, he acts as a kind of translator between the various specialist units in his job on a daily basis. It is this interdisciplinary work that Höhmann values so highly: "Without the expertise of a wide range of specialist colleagues and units, this project, which was implemented for Germany as a first step, would not have been possible."
Another project in which Höhmann has been involved in recent months as part of Mercedes-Benz' technical Compliance Management System (tCMS) also shows just how multi-faceted the challenges involved in automated and connected driving can be. The tCMS supports engineers, among other things, faced with challenging questions of interpretation as well as technically complex and unclear legal frameworks in product development.
"The issue here was what our benchmark should be for evaluating the performance of our automated driving systems when we talk about safety or compliance with traffic rules. For example, should our systems on the road be based on the driving behavior of an average driver or that of a professional driver?" is the way Höhmann describes the basic problem. This is not an easy decision for the developers, because in addition to technical requirements, a wide range of legal and ethical aspects have to be taken into account. "Because of this complexity, this issue was dealt with as part of the Mercedes-Benz tCMS clearing process," says Höhmann. In this process, issues that are complex and need to be weighted up, are evaluated and decided in interdisciplinary committees, in particular taking into account a range of technical, legal and certification-relevant criteria. Höhmann himself was part of the clearing team that examined the facts and prepared them for a decision.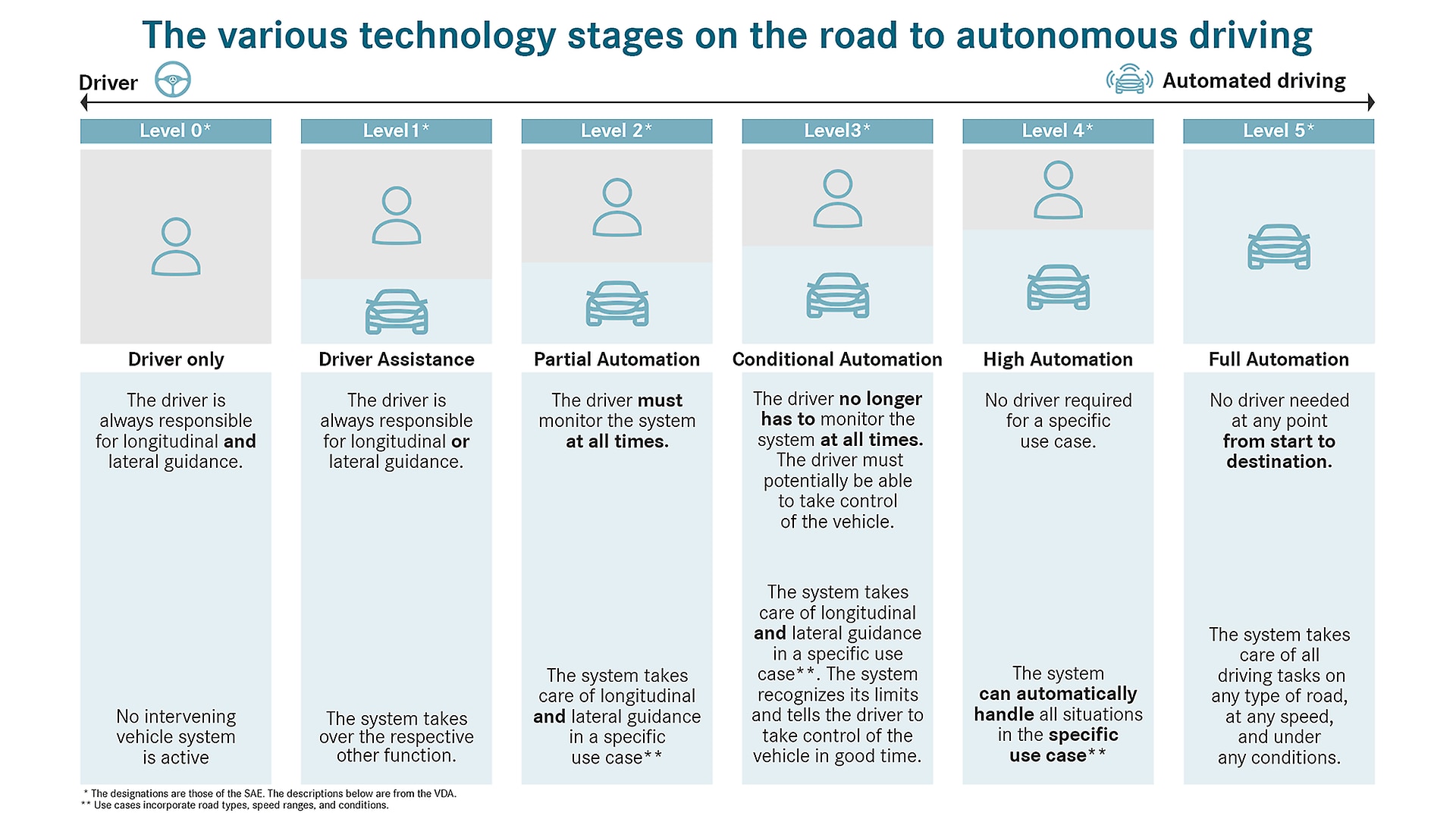 A wide range of social expectations are placed on automated and autonomous systems, particularly with regard to the road safety of this new technology. That's because these systems can't get tired or distracted like human drivers can do. Accordingly, autonomous systems are expected to contribute to a further improvement in road safety simply by reducing these risks. After all, they are already more efficient than the average driver. "We have further developed this benchmark," Höhmann reflects back on the lively discussions in the clearing team. "The automated systems we are developing should instead be measured against the reactions of so called model drivers." This recommendation has now also been adopted in the tCMS committee and, under the heading of Mercedes-Benz Automated Driving Guidance, has since become an orientation for the development of autonomous systems.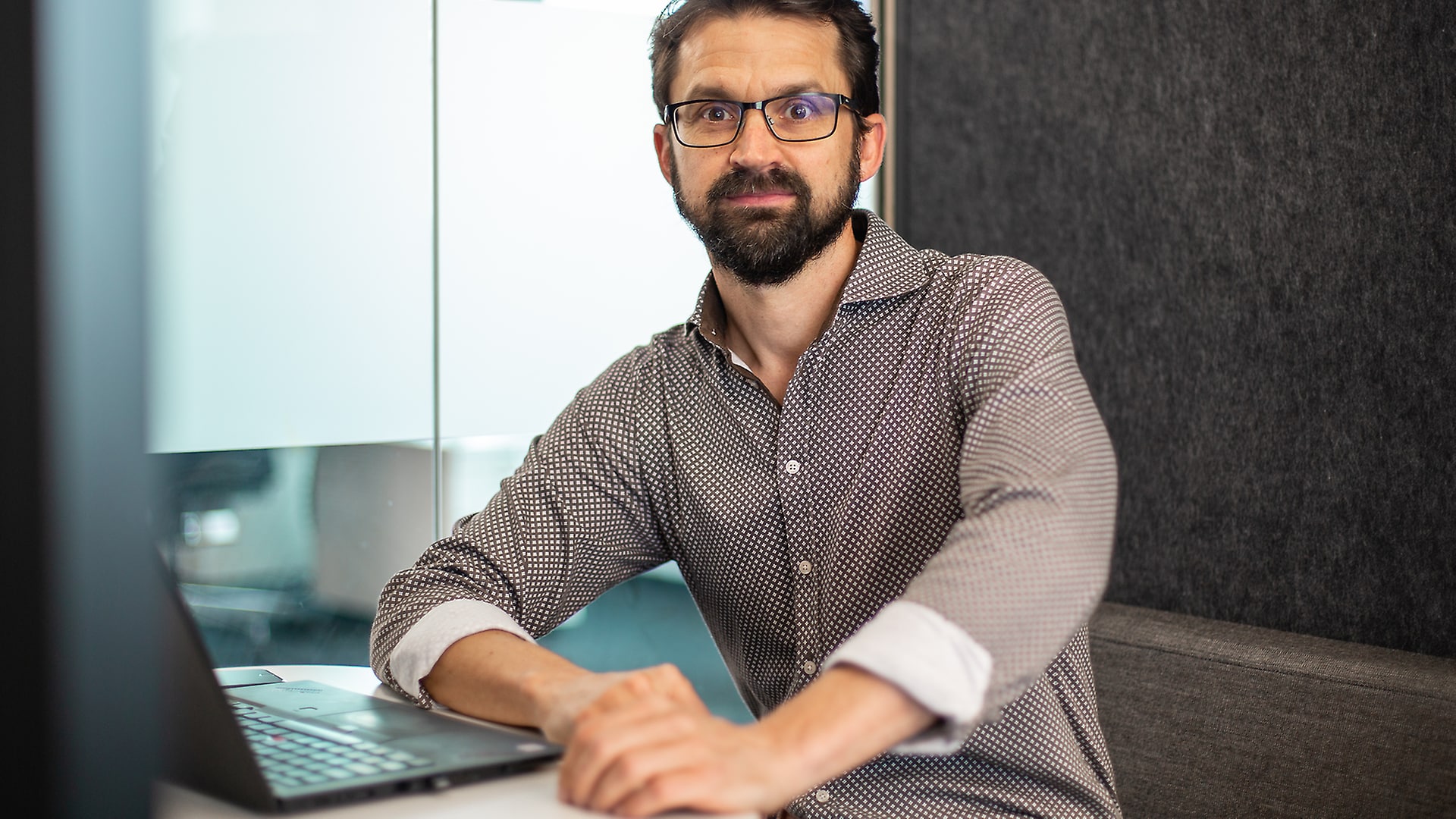 "Together we have found a way here to translate the Road Traffic Act into machine language, so to speak," says Höhmann.
However, even with all the standardized internal policies and benchmarks - real life is such that driving situations can always arise in which different factors affect compliance with rules or the controllability of driving situations. Traffic signs, for example, may be dirty, bent or obscured, and thus not properly visible. Alternatively, another vehicle swerves too close in front of the automated vehicle, making a collision almost impossible to avoid. "For such scenarios, we first need to determine for the application of the Guidance how the model drivers would handle this particular situation. There are many variables here which have an impact on the specific situation and which we must take into account accordingly," explains Höhmann.
Therefore, Höhmann and the experts involved are working on the basis of the applicable Guidance to examine every single possible scenario and develop solutions for exceptional situations experienced during automated driving. "We are making good progress in this respect, and I am confident that our work will soon enable us to reach another milestone in the development of automated and connected vehicles ," Höhmann sums up.
Florian Springborn knows that increasing digitalization of vehicles also brings with it legal challenges. As a lawyer in Mercedes-Benz' Corporate Data Protection group, he heads Vehicle Data Protection for Cars & Vans. "In today's state-of-the-art vehicles, personal data is processed at many points. That's why data protection aspects must be taken into account from the ideation to the planning phase and throughout the entire development process for new products and systems," Springborn explains. However, this approach, also referred to as "Privacy by Design," is not only about the early integration of data protection. "This is not just to minimize data protection risks from the outset and to avoid the need to add data protection measures subsequently. Privacy by Design also allows us to focus on the user and pursue the goal of creating a good customer experience with data protection in mind - for example, by consistently implementing principles such as transparency and choice. My team and I work every day to implement this together with all the specialist units involved so that we can offer our customers products that are both convenient and privacy-friendly."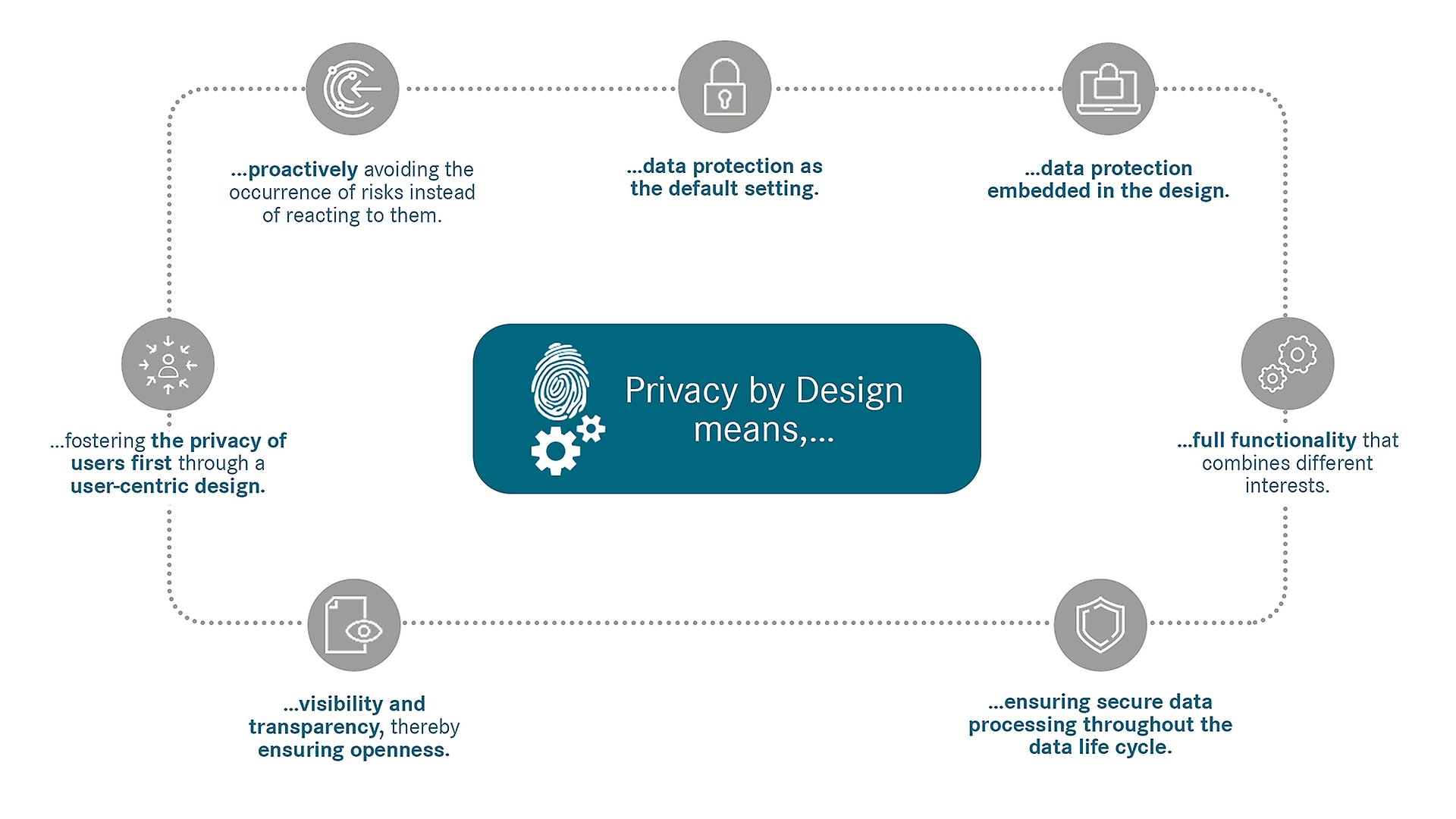 A good example is MBUX's infotainment User Action Prediction (UAP) feature. "This refers to personalized suggestions offered by the system based on learned user behavior." Such learning systems are not without challenges for data protection experts. On the one hand, they offer convenience and benefits for motorists; but on the other hand, they rely on personal data to make appropriate recommendations. If you lend a car to a colleague, for example, you might later be shown the places or phone numbers that the colleague has driven to or called, as suggestions. "This is not only impractical since you generally can't use such information, but it can also be problematic for privacy reasons. After all, this is personal data, which can be sensitive. Therefore, the challenge for us data protection experts is to reconcile convenience with the protection of privacy rights," Springborn explains. "For this reason, it was important to us to give users a choice as to which behaviors the system should and should not learn and to enable them to control this actively. Together with our colleagues in Sunnyvale and Sindelfingen, we worked from the very beginning of the product's development to ensure this," he continues.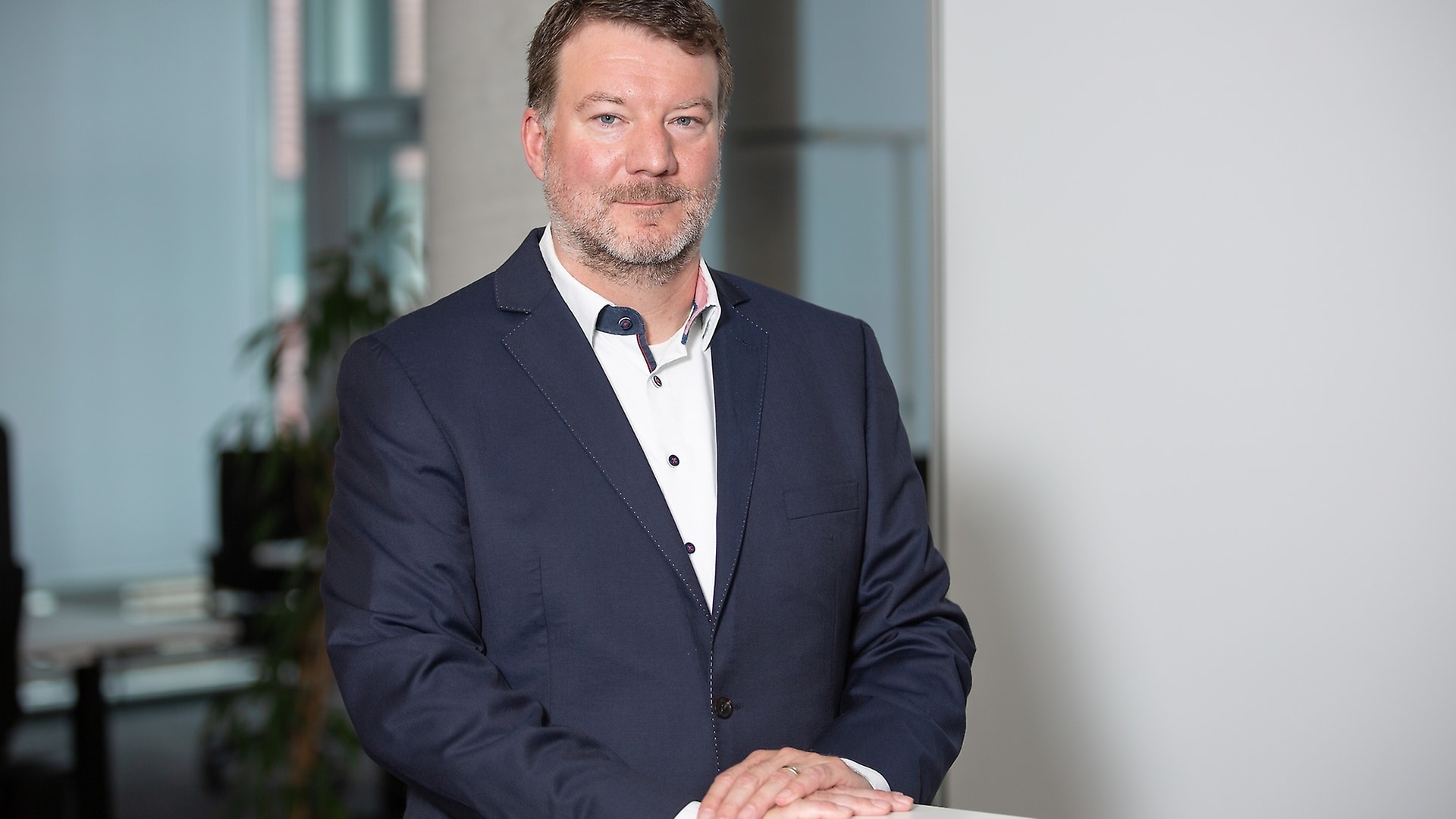 "Privacy by Design also allows us to focus on the user and pursue the goal of creating a good customer experience with data protection in mind," explains Springborn.
The result is a feature that is easy and intuitive to use and meets all the requirements for comprehensive data protection. "UAP learns over time, but only if the driver in the vehicle directly agrees that it may personalize MBUX for them. Additionally, the default setting for the feature is off unless the user activates it. In this way, users retain control over their data at all times. They also have the option at any time to turn off individual categories for suggestions, pause the system, or delete all data."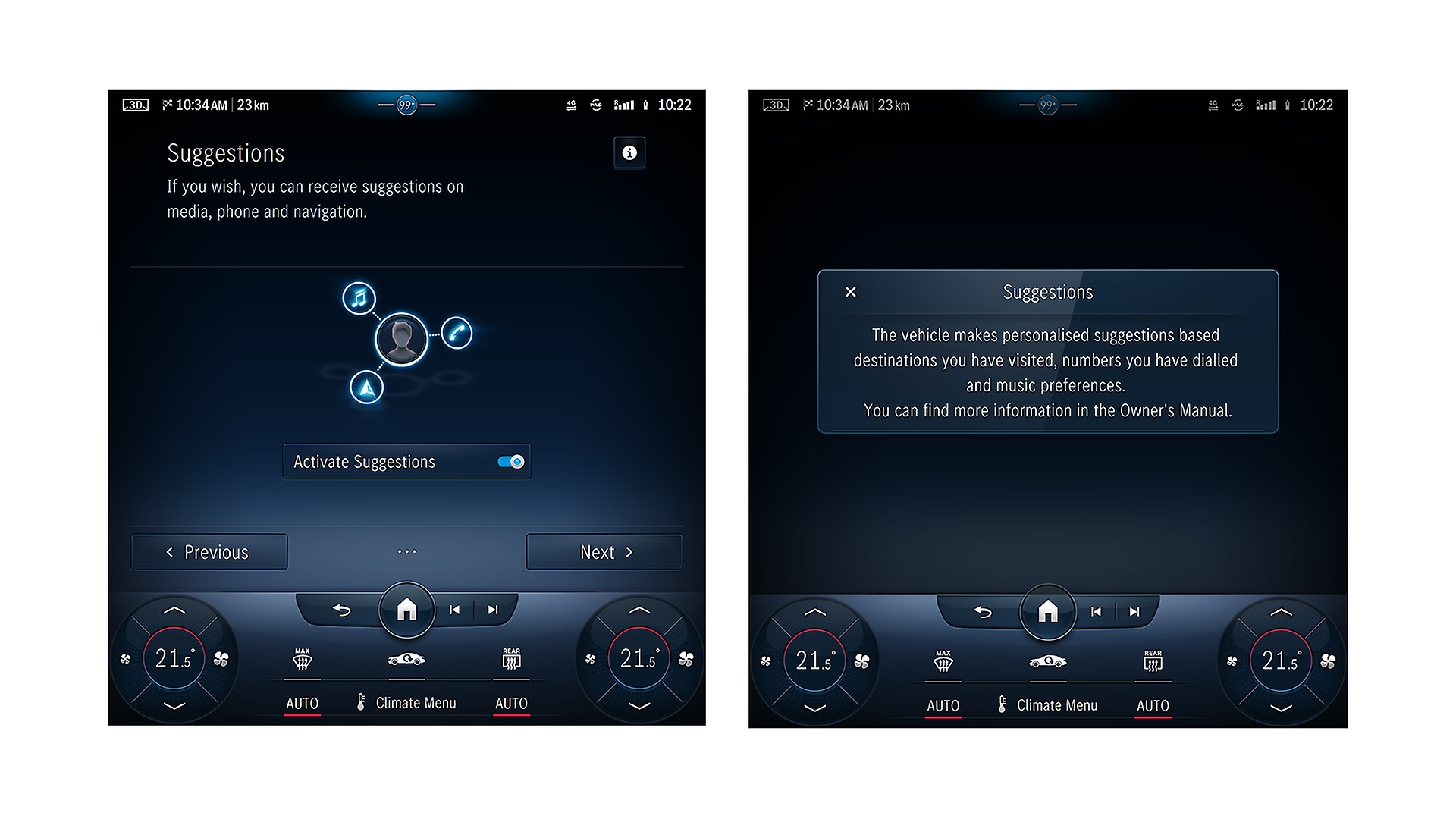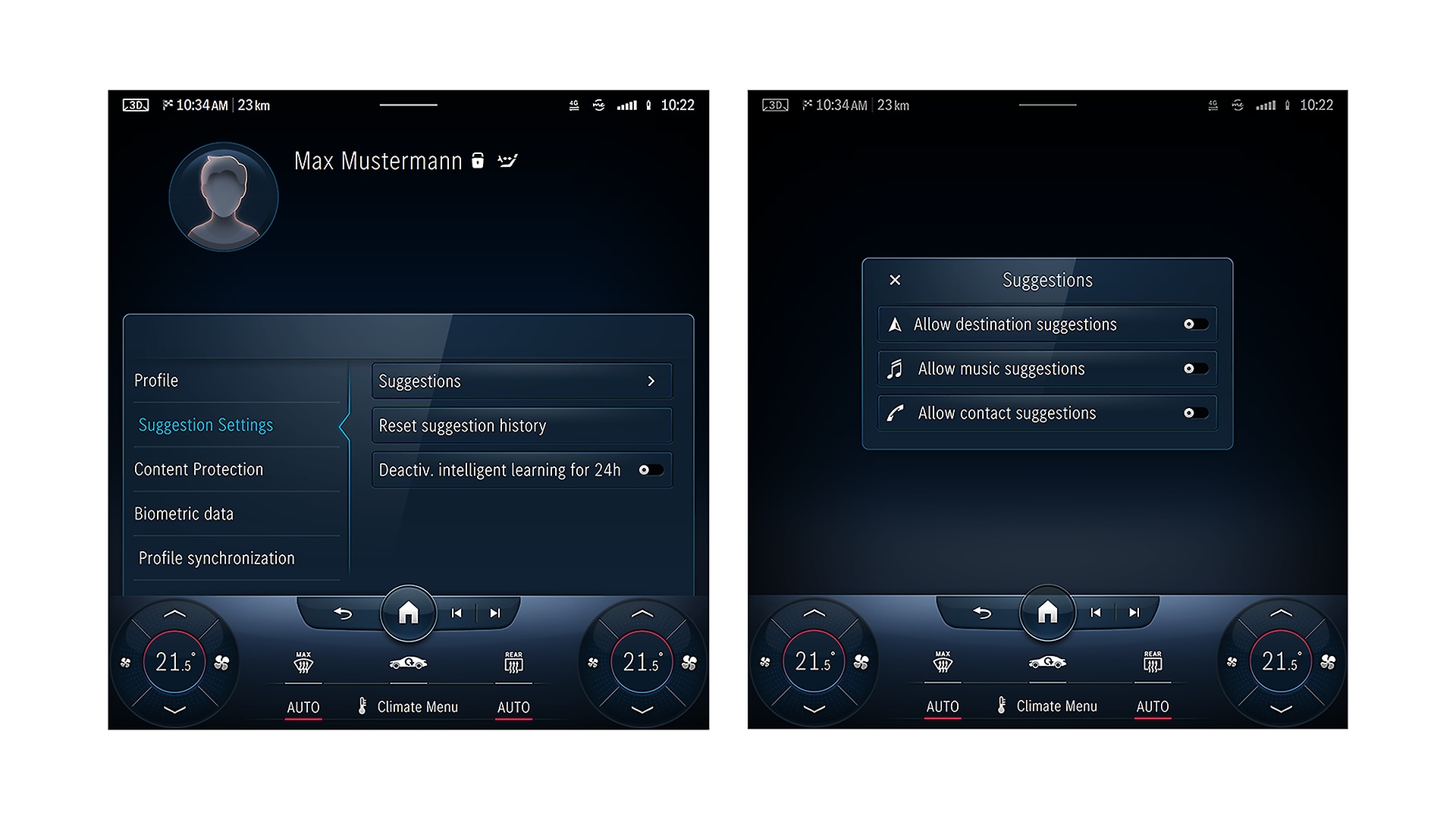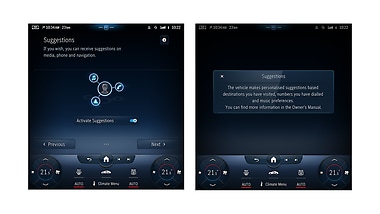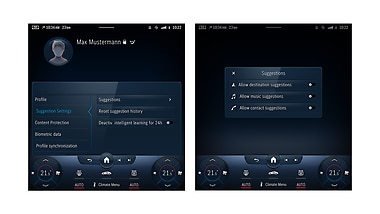 Christoph Höhmann and Florian Springborn, as well as others, see digitalization as the biggest driver for the transformation in the automotive industry. "I'm always amazed at the possibilities that comprehensive connectivity opens up for us," enthuses Höhmann. "But at the same time, we need a responsible approach to technological progress - and we are committed to that, every day," adds Springborn.