Our transporters stand for the highest level of technical and qualitative know-how. This also applies to our roughly 5,600 employees here at the Düsseldorf site, who are responsible for the production of the Mercedes-Benz Sprinter and eSprinter with around 111,000 (2022) vans per year, among other things.
Düsseldorf plays a principal role in the global production network of Mercedes-Benz Vans. All closed variants of the Mercedes-Benz Sprinter and eSprinter are produced here, i.e. the plant covers an area of approximately 669,000 m² with a production area of 325,000 m².
The variety in the shell construction of the Sprinter is impressive in regard to different lengths, heights, door arrangements, weight classes as well as left and right-hand control.
One of the most impressive stations is the Pane Gluing Centre, the world's largest of its kind. This is where robots use all the windows of the vehicle with the highest precision.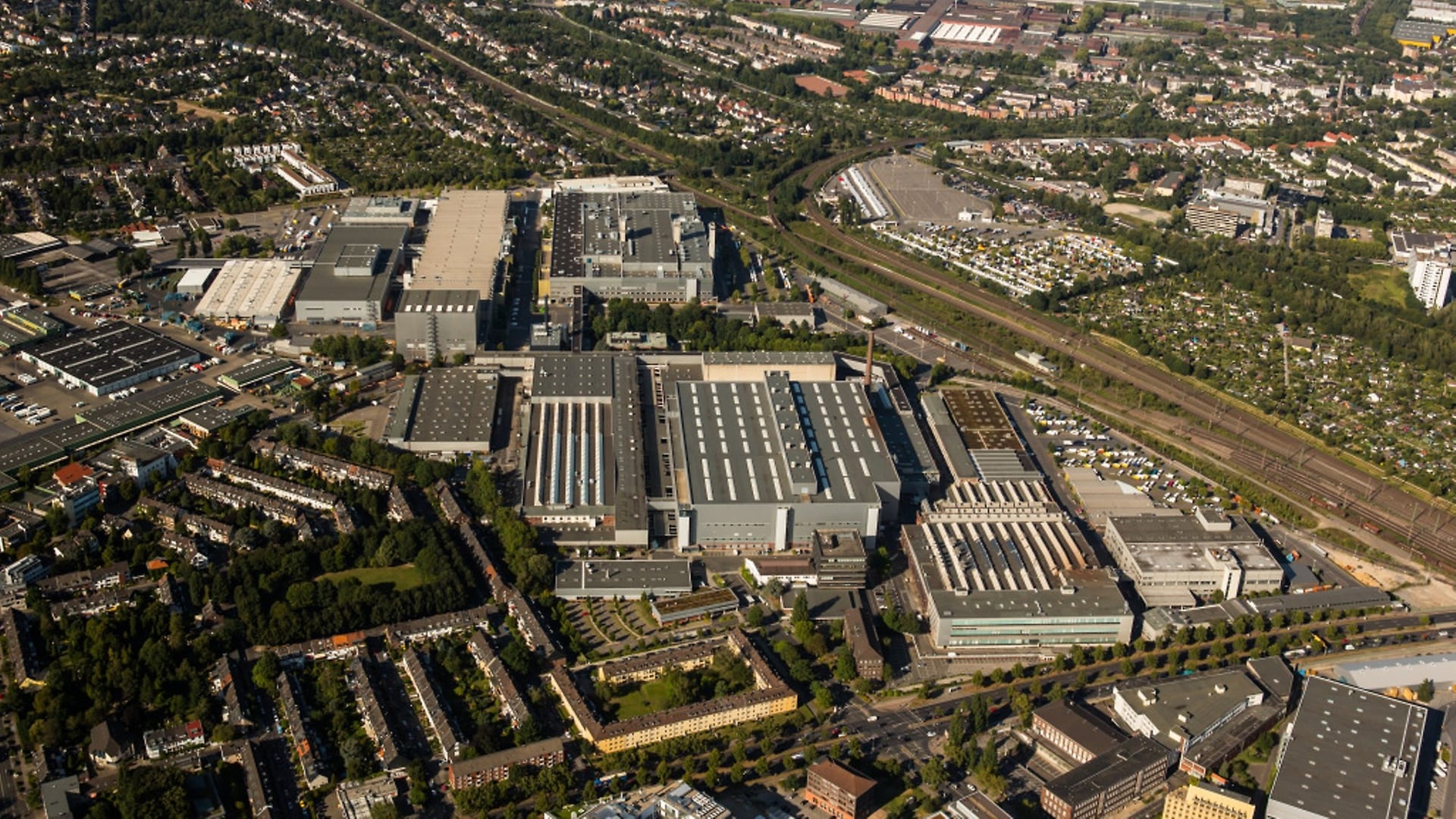 Mercedes-Benz AG at a glance
Mercedes-Benz AG is responsible for the global business of Mercedes-Benz Cars and Mercedes-Benz Vans with over 170,000 employees worldwide. Ola Källenius is Chairman of the Board of Management of Mercedes-Benz AG. The company focuses on the development, production and sales of passenger cars, vans and services. Furthermore, the company aspires to be leading in the fields of connectivity, automated driving and alternative drives with its forward-looking innovations.
The product portfolio includes the Mercedes-Benz brand with the brands Mercedes-AMG, Mercedes-Maybach, G-Class, the smart brand and the EQ product and technology brand for electric mobility. The Mercedes me brand offers access to the digital services from Mercedes-Benz. Mercedes-Benz AG is one of the largest manufacturers of premium passenger cars. In 2022 it sold nearly 2million cars and more than 415,300 vans. In its two business divisions, Mercedes-Benz AG is continually expanding its worldwide production network with over 35 production sites on four continents, while aligning itself to meet the requirements of electric mobility. At the same time, the company is developing its global battery production network on three continents.
As sustainability is the guiding principle of the Mercedes-Benz strategy and for the company itself, this means creating lasting value for all stakeholders: customers, employees, investors, business partners and the society as a whole. The basis for this is the sustainable business strategy of Daimler in which the company takes responsibility for the economic, ecological and social effects of its business activities and looks at the entire value chain.
---
Everything around jobs