Mercedes pay GmbH, Stuttgart.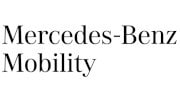 Benefits
Canteen-Cafeteria Roll-in / barrier-free workplace Good public transport Parking Lots Inhouse Doctor Coaching Annual profit share possible Company car possible Discounts for employees Mobile Phone for employees Health Benefits Flexitime possible Retirement Arrangement Events for employees Meal-Discounts Hybrid Work possible
Visitor address
Siemensstraße 7
70469 Stuttgart

Postal address
Siemensstraße 7
70469 Stuttgart

Mercedes pay GmbH is a wholly owned subsidiary of Mercedes-Benz Mobility AG. More than fifty employees develop and shape the mobility of the future at the two locations in Stuttgart and Berlin.
Mercedes pay is the central platform and the in-house global competence center for the processing of payment transactions at Mercedes-Benz. The division ensures that the best possible customer experience will achieved in all aspects of the car. Among other things, Mercedes pay's "Global Payment Platform" enables uncomplicated payment processing directly from the car. With these ePayment services, Mercedes-Benz customers can access digital applications such as "Parking" and "Fueling" even more flexibly and easily.
Everything around jobs
Pupils
Students
Graduates
Professionals
Contact for career
Close
Open positions
Close
Contact for career
Close
Open positions
Close
Contact for career
Close
Open positions
Close
Contact for career
Close
Open positions
Close