The publication of the first part of the sixth IPCC report in 2021 used hard facts on the status quo of climate change and possible subsequent scenarios to make clear: Society, business and governments need to act! Jana Krägenbring-Noor, Head of Corporate Environmental Protection and Energy Management, reveals what is needed for the sustainable transformation of an internationally operating company — and why there's no alternative to a sustainable business strategy.
When I look into the sunset on vacation at the Baltic Sea and watch the sight of the seabirds along the horizon it not only energises me, but makes me aware of how important it is to keep nature and people in harmony. With this goal in mind, I start my laptop in the morning and am happy that I can help to shape sustainable action at a company like Mercedes-Benz. About four years ago, my team and I were given an important task: to create an even greater awareness within the company of how our actions affect the environment. Sustainability should be at the centre of business and it's not just a matter of putting locally emission-free automobiles on the road.
Sustainability must be the guiding principle for every employee's actions
In fact, a sustainable business strategy means integrating sustainability into all processes along the value chain. This is a huge task that can only be successful if everyone participates. My team and I are working intensely, as we always have to keep things moving and serve as the driving force of the strategy and implementation process. In a way, asking the right questions has to become a part of the organisation's DNA: how is climate and environmental protection relevant for my tasks and which aspects do I have to keep in mind? How does this decision affect resource consumption and the CO₂-footprint? Where can I also improve in ways that are not measured by performance indicators? We've already made big progress on these issues, and not just in vehicle development and production.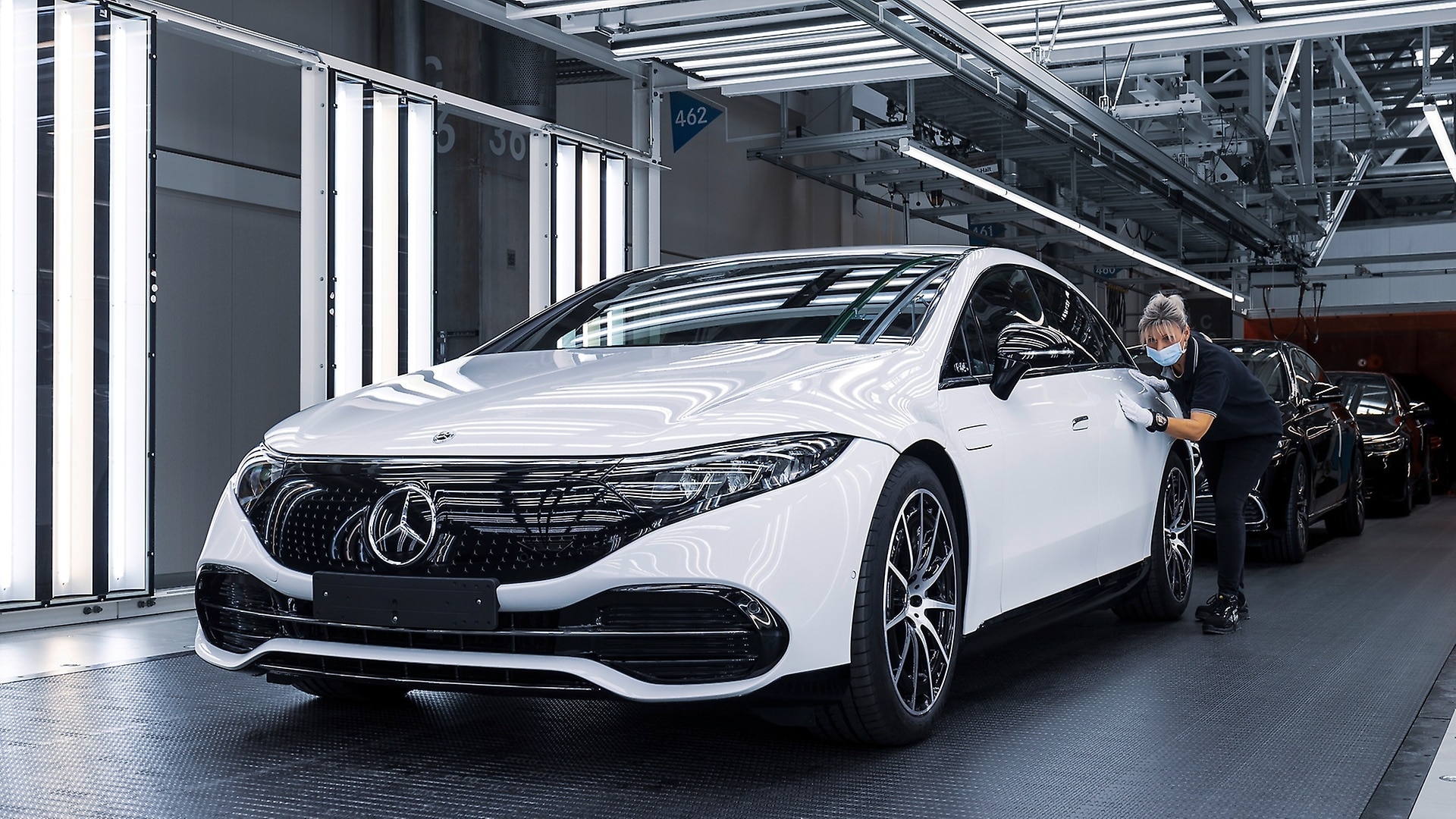 The EQS electric saloon is produced CO2-neutrally at Factory 56 in Sindelfingen.
This highly dynamic process of change is increasingly being influenced by investors who demand sustainable action. One response to this was the first green bond in the amount of one billion euros, which the Mercedes-Benz Group issued in September 2020. The second green bond of the same amount followed in February 2021. The net proceeds from these issues are used exclusively to fund green projects. This enables investors to participate directly in the attainment of the sustainability goals and at the same time ensures that we have the liquidity we need to make important investments for the future.
This is necessary because our efforts as a company are embedded within a legal framework set by politics. For example, the goals of the Paris Climate Agreement must be implemented, so that targets and incentives are set not only for individuals, but for society as a whole – because that's the only way that the climate can be effectively protected in the long-term. At the European level, for example car manufacturers are given fleet limits. It should be noted that the goals of our Ambition 2039 go beyond these requirements.
We want to become CO₂ neutral by 2039 – the goal we set ourselves in May 2019 with the aforementioned Ambition 2039 programme has since then gained an enormous momentum, both internally and externally. From my point of view we've made much more progress over the past two years than was originally thought possible. In my opinion, the decision of the Executive Board to set sustainability targets for all areas is the basis for this success. Environmental protection is being directly managed and put into practice in our daily work.
It makes me proud that we have even exceeded our targets defined for 2021 in some areas. For example, we have succeeded in reducing the amount of cobalt in the cathodes of the EQS' battery cells to less than ten per cent and thus significantly improved compared to previous battery generation. Our procurement unit also made great progress. For example, Mercedes-Benz has agreed to purchase battery cells produced in a CO₂-neutral manner as part of its strategic partnerships with battery cell partners CATL, ACC and Farasis. Starting with the EQS, we will only procure CO₂-neutral battery cells for our new all-electric passenger car models. This will save around 30 percent of the emissions from battery production.
Step 1: Taking stock of (life cycle) assessment
But how do we know where the need of action is particularly needed or where reduction measures are especially effective? To answer this question, our first step for all units is to take a close look at our consumption.
In doing so, my team and I concentrate on how we can employ a holistic approach to improve the products' environmental compatibility and reduce the environmental impact. If you want to permanently improve the life cycle assessment, you need to take a 360° view of the entire life cycle: What impact do the raw materials already have? How much energy is needed for production, how do the various drivetrains influence the CO₂ balance during the use phase, and what effect does the use of recyclates have? We can now evaluate all of that not only manually, but also automatically, from the raw material to practically the last screw, so to speak. As a result, we know precisely which measures we have to take in order to improve climate neutrality, enhance environmental compatibility and reduce resource consumption. The life cycle assessment of the EQS, for example, shows that we are on the right track from todays' perspective with our electric–only approach. Calculated for the life cycle as a whole, the EQS' CO₂ balance is 80 per cent better than that of its combustion engine counterpart, given the EQS is charged with green electricity. Compared to the conventional S-Class, the higher emissions from the production of the EQS are already offset after just 20,000 kilometres. A few years ago, we would have considered such figures to be a long way off as visionary.
Keeping materials in circulation
We also take a close look at the materials used in a vehicle. Moreover, we take on responsibility for our supply chain even though we don't pull all the strings here. Our goal is to conserve valuable resources here as well and to use as little of the primary raw materials as possible. At Mercedes-Benz, we have therefore set ourselves the goal of increasing the use of recycled materials to 40 per cent by 2030. With regard to plastics we've already made good progress: seat covers made of 100 per cent recycled PET bottles, floor coverings made of processed fishing nets and fabric scraps instead of tufted velour. Moreover, we are using cable ducts made of recycled household waste. The EQS alone contains a total of 80 kilograms of resource-conserving materials. I was totally thrilled when I had the chance to experience the Vision EQXX that we unveiled in January 2022. The vehicle's interior, for example, contains many materials that aren't from animal origin.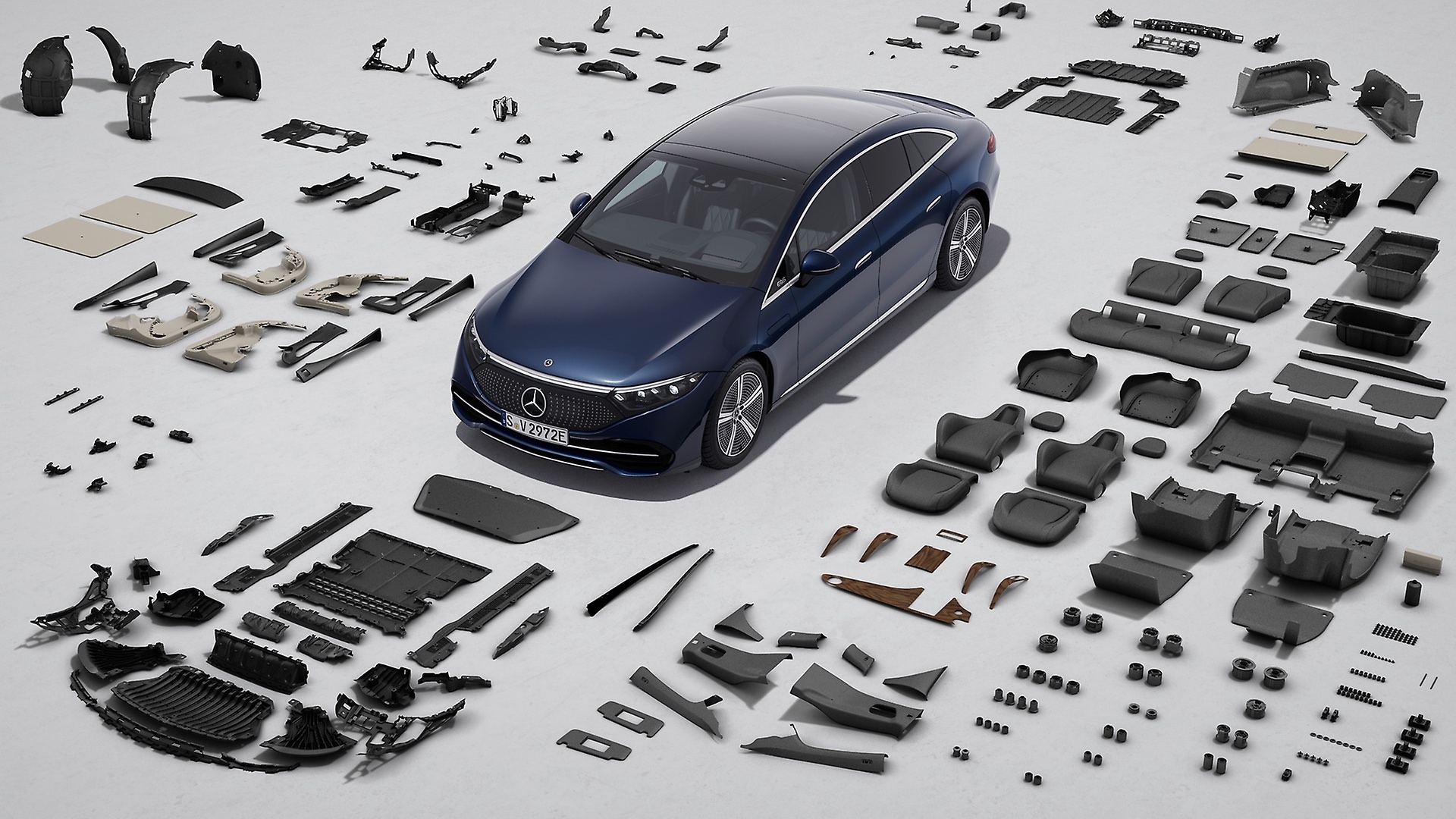 The EQS contains 287 components made of resource-saving materials with a total weight of 82.3 kilograms.
In fact, 95 per cent of a vehicle can be recycled today. However, as we progress towards a circular economy, we have to bear in mind that the steel from recycled end-of-life vehicles today is generally not used to produce a new automobile, but rather for steel girders in a high-rise. Although there is nothing wrong with this as such, it also means that the high-quality automotive alloys are tied up for another purpose. We want to get closer to the "closed loop" in automobile production. In the case of our high-voltage batteries, we attach great importance to recycling and reuse even before recycling. For example, defective batteries are reprocessed for reuse in vehicles.
If the battery is no longer suitable for road use, it is reused in a stationary energy storage unit in order to offset peaks in consumption in the electricity grid. Not until this use is at an end, is the battery recycled so that valuable raw materials can be recovered.
Minimising raw materials risks by means of technological progress
Although recycling processes are already very advanced, batteries contain valuable raw materials that are sometimes critical. That's why we want to steadily reduce the amount of critical raw materials that are used per vehicle. We design our vehicles to be as resource-conserving and environmentally friendly as possible over their entire life cycle. In vehicle development we call this approach "Design for Environment". This is why it's all the more important that the individual components are analysed for their social and environmental risks before the first vehicle sketch is made. The ESSENZ method that we developed in cooperation with the TU Berlin and other partners provides information about the scope of the risks. This method assesses, for example, how the raw material deposits are distributed across the earth and whether its exploitation could be associated with human rights risks. In the latter case, it supplements our Human Rights Respect System. The results help us to gain a clear picture of the potential environmental, economic and social risks that are associated with the use of a given raw material. To date, the Mercedes-Benz Group has identified 24 such risk-related raw materials, including cobalt and lithium, which we will only procure from certified sources in the future.
However, our aspirations go far beyond industry-wide standards. In the medium-term, we want to reduce the amount of critical materials used by keeping second-use raw materials in the cycle for as long as possible. At the same time, our engineers are working at full speed to increase the energy density of lithium-ion technology. This enables us to reduce the proportion of critical raw materials used as well. With success: The proportion of cobalt in the new generation of batteries has already been reduced to below ten per cent. Our goal is to completely change the material composition. Whereas today's battery cells contain comparable amounts of nickel, manganese and cobalt, most of the cobalt in the lithium-ion battery cells might soon be replaced by nickel. In the future, we want to use post-lithium-ion technology to dispense with nickel and cobalt completely in batteries.
Achieving CO₂-neutral production with green electricity
We have also taken a great leap forward in vehicle production. The use of sustainable energy has increased further in 2021. Since 2022, purchased electricity has come entirely from renewable sources and production at the car and van plants of Mercedes-Benz is CO₂-neutral worldwide. However, the availability of green electricity at all of our locations worldwide proved to be one of the key challenges. That's because local conditions often differ widely. Green power wasn't always available or couldn't easily be routed to the places where we needed it. We therefore sought dialogue with the plants worldwide and drew up individual solutions for the green power supply. In addition to the expansion of photovoltaic systems, this was an essential key to achieving CO₂-neutrality in production. However, we can't dispense with offsets completely yet. In the future, we especially want to improve facilities that require a lot of process heat.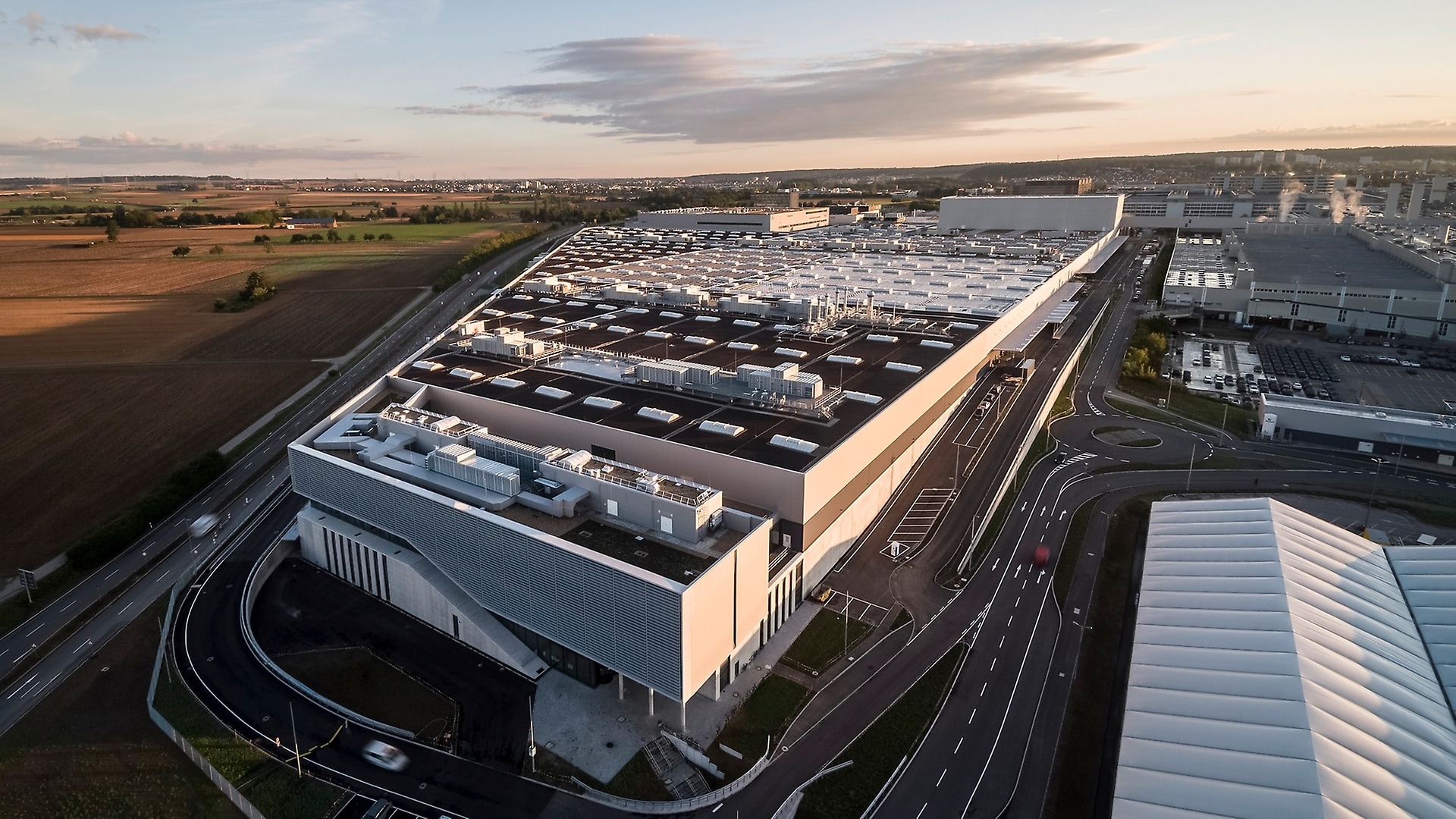 Flexible, digital, efficient and sustainable: Since 2020, Factory 56 in Sindelfingen has been producing completely CO2-neutral and with a significantly reduced energy requirement.
What we can learn from ESG ratings
Incidentally, whether our transformation is basically on the right track is demonstrated by more than just our share price. ESG ratings are becoming increasingly important means of depicting our performance alongside the financial rankings and trend analyses of the capital market. These scores provide us with guidance because they let us know which topics are currently trending and where we have to make more rapid progress. That's why investors consider ESG ratings to be an important indicator of whether our investments are sustainable.
I'm very confident with regard to our company's transformation. This positive feeling greatly motivates me in my daily work. For me, it's very important that I work for a company that has made environmental protection its priority. At Mercedes, we are driven by the goal of reconciling mankind and mobility with the environment. Knowing that we work hard to achieve our goals, I can take a deep breath during an evening walk with our four-legged friend in the woods and meadows and look forward to the next working day.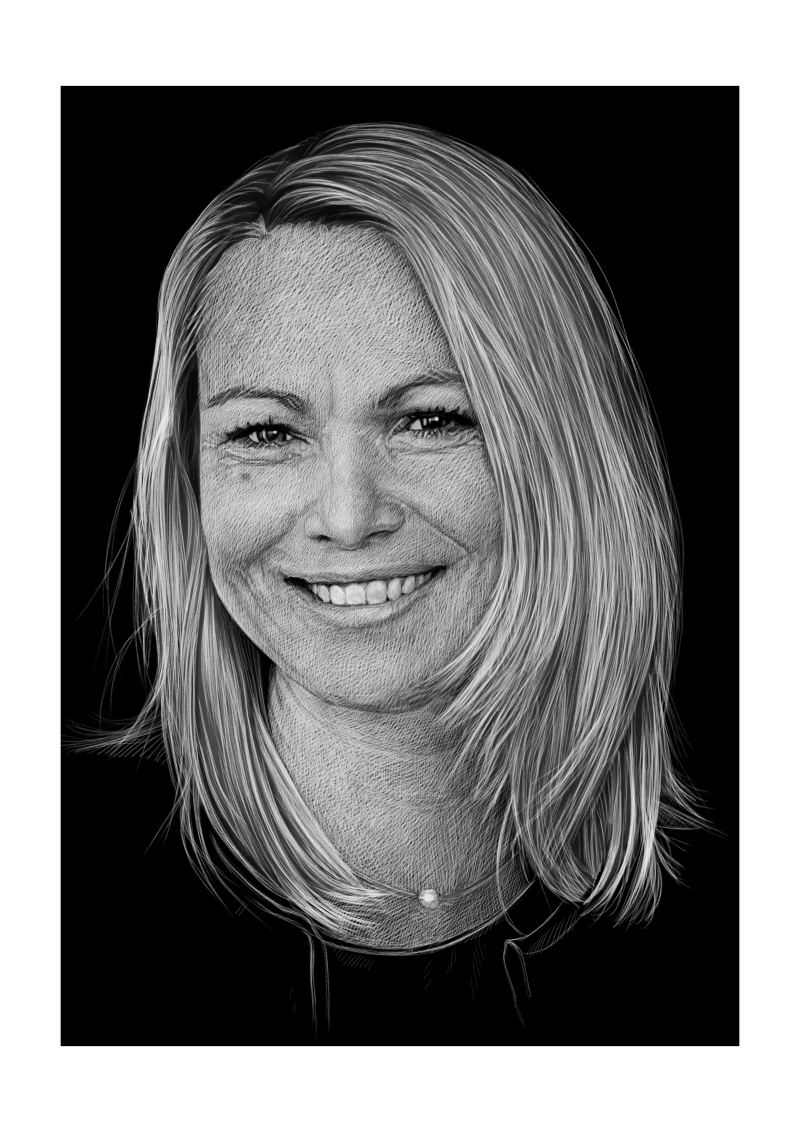 About the author:
Jana Krägenbring-Noor is the head of the Corporate Environmental Protection and Energy Management department. As a member of the Sustainability Competence Office, she coordinates the Group Sustainability Board. Her department covers the areas of sustainability, environmental protection, and energy management at Mercedes-Benz AG and is responsible for compliance with environmental and energy policy.