As Mercedes-Benz, we want to make a positive contribution beyond our factory gates – in the social sphere and in environmental protection. In addition to the numerous initiatives and projects that Mercedes-Benz supports as a company, our employees are also involved in this area in a variety of ways. The personal engagement ranges from smaller local initiatives on one's own to worldwide, jointly organised aid projects.
With a current initiative, Mercedes-Benz is also encouraging its employees to take their pioneering spirit and expertise into the world beyond the factory gates and to get involved as mentors in charitable initiatives and projects. For this purpose, the company provides Impact Mentor Training to prepare interested individuals for the upcoming role as mentors. Our employees can then also bring their experience and insights from the mentoring programme back into everyday working life at Mercedes-Benz, thus adding value for everyone.
Mercedes-Benz employee initiative ProCent
The Mercedes-Benz employee initiative ProCent, which is jointly supported by the company, the Group Works Council and the Management Representative Committee, is of particular importance in this area.
Every month, employees at Mercedes-Benz donate the cents of their net pay to a good cause. The company doubles the amount and collects it in a support fund. Since 2011, more than 13 million euros have been approved for more than 1,900 non-profit projects.
What happens to the money? Our employees propose projects that should receive money from this support fund. After checking for feasibility, a decision-making committee with equal representation from the works council and the company confirms the funding. Half of the money goes to regional, non-profit projects at the factory locations and the other half to overarching, non-profit projects at home and abroad, for example for the benefit of children, young people and people with disabilities, for charitable purposes as well as for environmental protection, animal protection and conservation.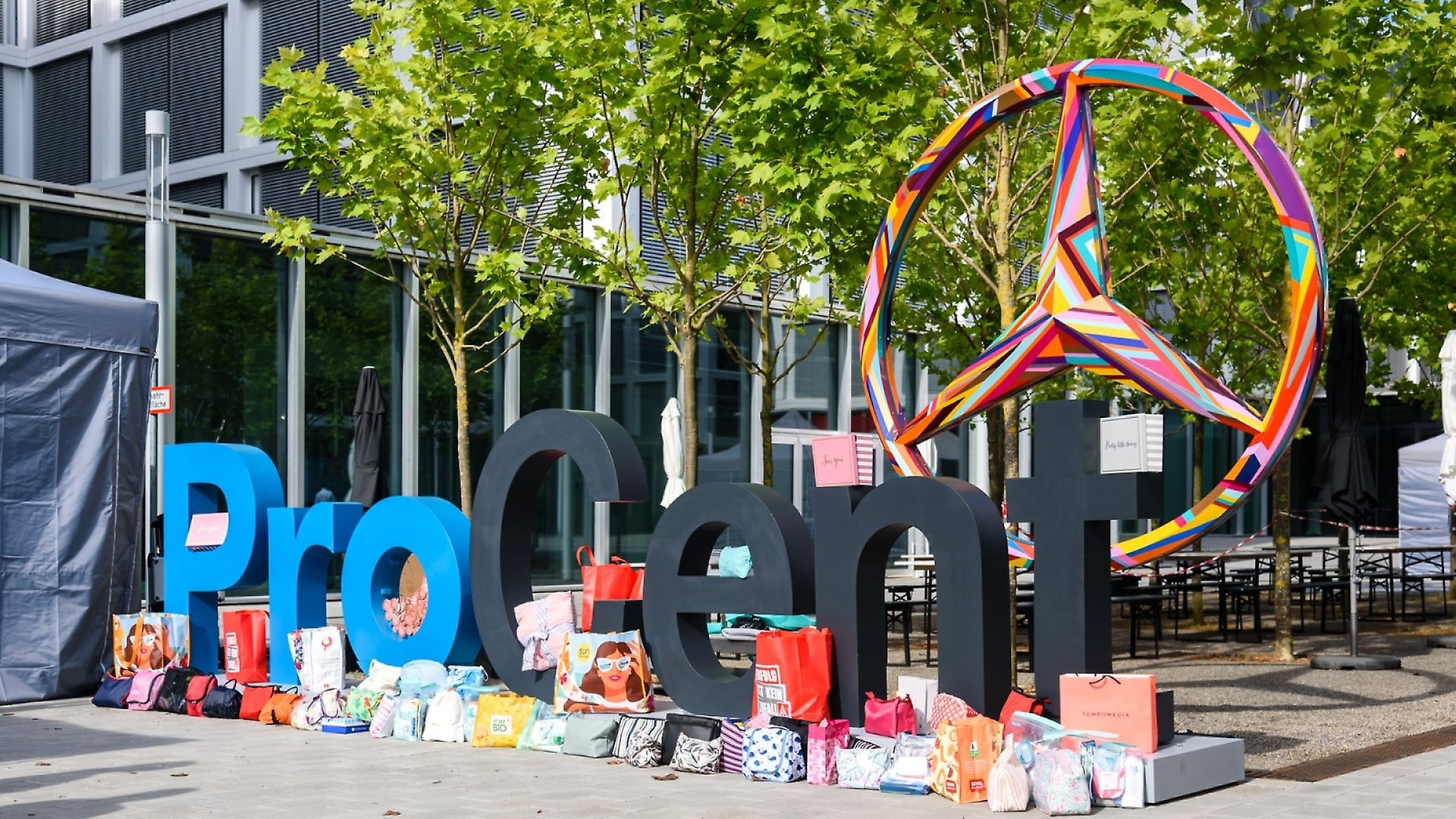 Mercedes-Benz ProCent Photo: Michael Orth.
One example of ProCent funding is the purchase of a professional gastro-espresso machine for the regional 46PLUS Espressomobil in Stuttgart and the surrounding area. The Espressomobil is run by young baristi with Down's syndrome, who are well prepared for their new part-time job. In future, it will be used at weekly or annual markets, club festivals or company celebrations. Behind this is the association 46PLUS Down-Syndrom Stuttgart e.V., which campaigns for the interests of people with Down's syndrome and their parents and relatives.
The municipality of Bondorf in the district of Böblingen opened the forest kindergarten "Waldfüchse Bondorf" in 2022. ProCent funds the project "Healthy nutrition – from sowing and planting to the finished dish" to teach children about sustainable and healthy nutrition.
ProCent funds were used to purchase five new machines for a motor vehicle mechanics training workshop in Mbeya (Tanzania), including a hydraulic vehicle lift and a battery charger. These enable training at a high technical level. Due to the region's leap in automobilisation, the training opens up career prospects for young people.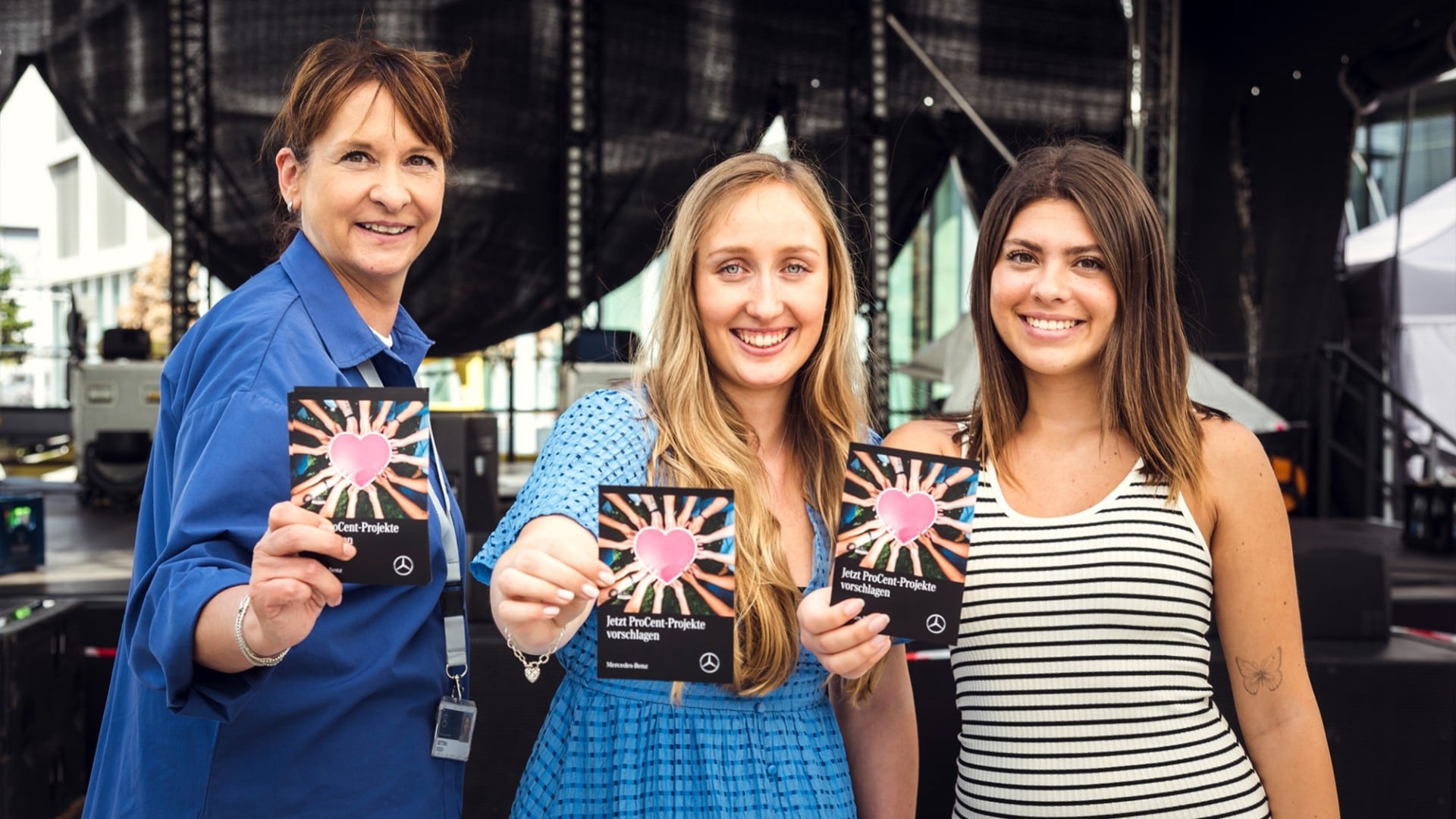 Mercedes-Benz ProCent Photo: Michael Orth.
Employees are active worldwide
On the "Social Days" and the "Days of Caring", the employees themselves lend a hand with social and ecological projects. For example, in April 2022, over 600 Mercedes-Benz USA employees joined the national volunteering week. Among others, they supported the non-profit organisations Safe Kids Worldwide and Junior Achievement USA during this period. The employees of Mercedes-Benz Bank have also been involved in charitable projects in the immediate vicinity of our Stuttgart, Saarbrücken and Berlin locations since 2006 with the "Day of Caring".
Mercedes-Benz South Africa also supports employees with a volunteer programme to get involved in social initiatives and projects. These can be fundraising campaigns and other initiatives on the annual "Mandela Day", for example.
More international examples:
Our Social Commitment in Germany | Mercedes-Benz Bank
Mercedes-Benz USA Corporate Social Responsibility | Mercedes-Benz USA