When students and company learn from each other: Practical placement in Controlling.
At Mercedes-Benz France, Ulrich Neuf manages the business activities for both Mercedes-Benz Cars and the logistics centres from a financial perspective. For a few weeks his team in Montigny-le-Bretonneux near Versailles welcomes Sophie Züfle, who is completing a practical placement there as part of her dual study programme. In a joint interview, the financial controller and the dual business administration student, who is specialising in international business, tell us what Sophie's project work involves, what tips Ulrich has as a former dual student and how both experience their collaboration.
Hi Sophie, hi Ulrich! Sophie, you're currently working as a dual business administration student for two months in Controlling at Mercedes-Benz Cars, and more specifically in Logistics at Mercedes-Benz France S.A. How are you supporting Ulrich's team specifically?
I help out with various tasks, like validating our vehicle prices. I also assist with the preparation of data for sustainability reporting, for example relating to our share of electrified vehicles. The reason for this is that most of these vehicles meet the requirements of the EU taxonomy and can therefore be designated as environmentally sustainable. This last aspect forms the basis for my project report on sustainability in controlling, which I am writing during my time here.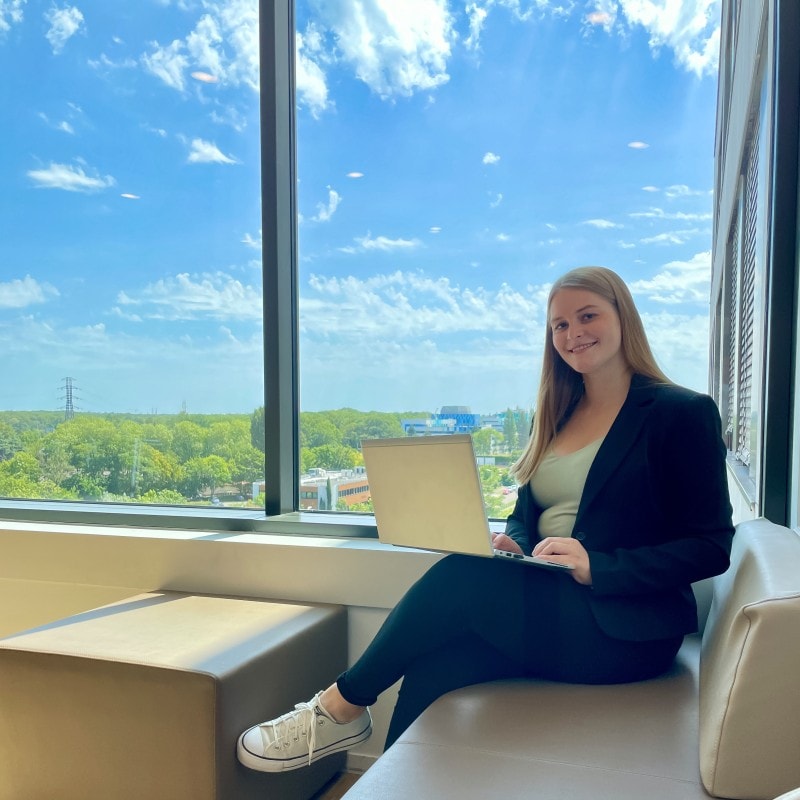 "Mercedes-Benz gives you plenty of opportunities to gain experience that you can use to benefit your studies and later professional life."
That sounds interesting. What are the key approaches to sustainable practices in controlling?
Sophie: The EU has a number of criteria for measuring sustainable business practices. For this purpose, I carry out interviews with experts, for example from the French Controlling department and from the Accounting department at the Stuttgart headquarters, I also conduct surveys and collect data for my analysis. The aim is to link theoretical and practical information in such a way that recommendations for action and improvements for more sustainability in controlling can emerge. I devised the questions with Ulrich, who is my departmental supervisor here. He is my first point of contact for questions and contacts.
Ulrich: I hope to gain new insights for my field thanks to Sophie's project work. This way, as a controller, I can look at individual procedures and decide whether they should be reconsidered so that they end up making a better contribution to our Ambition 2039. There are plenty of ideas for more sustainability. It is our task then to prepare key strategic indicators and decisions for this.
Sophie, you're now in your fifth semester. How have you experienced the start of your dual study programme?
As first-year students, we started with a one-week workshop at Mercedes-Benz to get to know the company, the team and the processes involved in studying at the Cooperative State University – and of course our future fellow students. It was an interesting and exciting start, which really made it easier to start my studies. As part of this, we also got to know our supervisors, who accompany us throughout the three-year study period. They arranged some exciting trips around the company for us, for example, we went to the wind tunnel and visited the Centre of Excellence in Sindelfingen.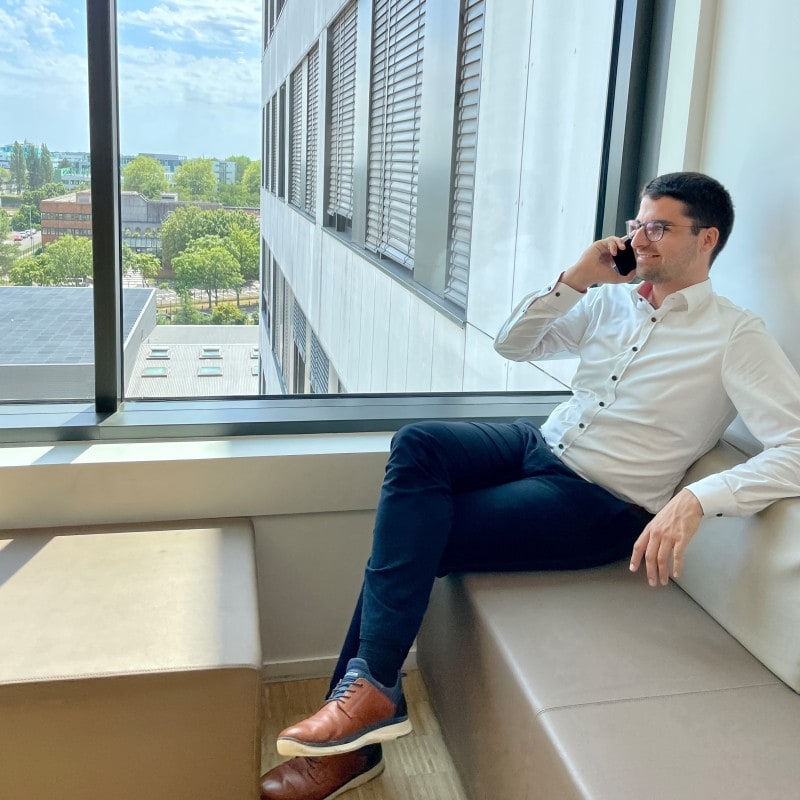 "My time as a dual student at Mercedes-Benz was incredibly instructive!"
Ulrich, you completed a dual business administration programme yourself and have been with Mercedes-Benz ever since. What advice would you give Sophie?
My time as a dual student at Mercedes-Benz was incredibly instructive! So my advice would be: This time gives you the chance to see how the knowledge you learned at the Cooperative State University translates into reality – from marketing to sales and controlling to purchasing and human relations. If there's something you really enjoy during your studies, you can pursue that topic and arrange an appropriate practical placement. The longer and more varied your time with the company is, the clearer your personal direction will become. As a dual student, I tried out a lot of things and worked out what I liked and what suited me best. So try to get a broad overview, look into topics that overlap, and follow your passion!
Sophie, do you already know which area of the company you would most like to work in once you finish your studies?
I would like to get an unbiased impression of the various areas that are possible, because I can see myself working in more than one field. In general, human interaction and teamwork are very important to me – fortunately, I've only had positive experiences of this so far. After the 5th semester, I will be writing my bachelor's thesis and will then be assigned to a job, which will ideally involve working in my target area. Before that, we will prepare for this alongside the other business administration and business informatics students at a week-long in-house workshop. Mercedes-Benz gives you plenty of opportunities to gain experience that you can use to benefit your studies and later professional life.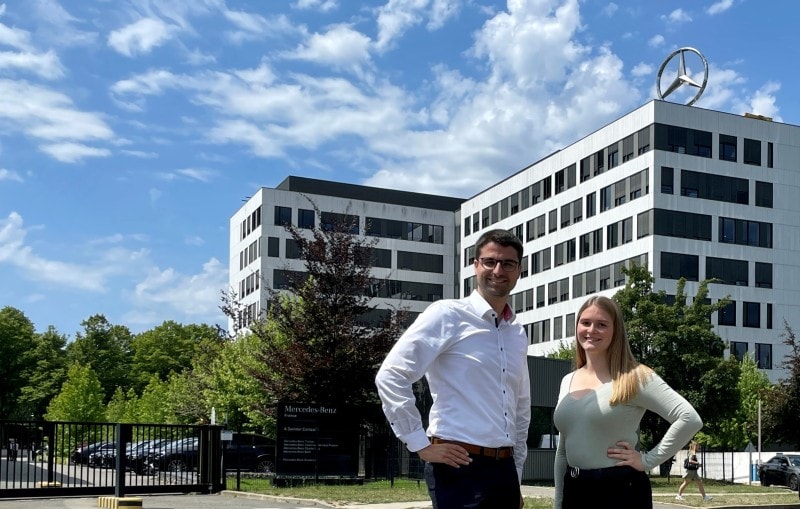 Mercedes-Benz in Montigny-le-Bretonneux, France
Ulrich, you started in Sales Controlling after finishing your dual business administration degree. When did you realise that you wanted to work in controlling?
I like cars, and I like numbers! After practical placements in Product Management, Purchasing, the branch office and Treasury, i.e. managing payment flows, I focused on sales controlling during my studies – which was precisely what interested me. Together with my fantastic team, we create tangible added value by carrying out financial analyses together with our business partners.
And what added value do you see for yourself from a dual study programme, Sophie?
For me, there is the huge advantage that I don't just learn about the course content in theory, but I'm also able to apply it directly in practice. I particularly enjoy the switch between the theoretical and practical components of the programme – it keeps the daily routine of studying and working very diverse! Thanks to this combination, I can quickly get to know a lot of people in the company and develop my network. At the same time, the periods abroad are a great opportunity for me to get to know a new way of working, language and culture.
How do you like living and working in France?
Sophie: I've been here for about a month, I live in Versailles close to the palace, and I really like it so far. I had to get used to French as a working and also everyday language, but I settled in quickly and have learned a lot. Ulrich's team and all my other colleagues have been a great help for me with this. I felt very welcome and at ease from the very beginning.
Ulrich: When I started here in Sales Controlling in 2021, I hadn't spoken French for seven years. But my French colleagues really made me feel at home and integrated me into their daily work life from the start. From there, you just need a bit of practice and you get back into it very quickly. Versailles is a wonderful, historical city. I love it here and have also come to appreciate the diversity of the local cuisine.
Sophie Züfle had already spent a lot of time in France before her studies and has always been inspired by the culture and language. In addition to her practical placement at Mercedes-Benz in France, Sophie also has completed a semester abroad in Seville, Spain. Whenever she finds time, she enjoys swimming or mountain biking in her native Black Forest.
From an early age, Ulrich Neuf would read his beloved car magazines every week. For him, cars represented freedom and mobility. These days, a Mercedes-Benz GLC is his daily companion and takes him everywhere in this beautiful country of France.