Athlon Car lease Nederland, Almere.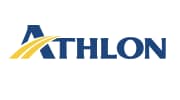 Benefits
Canteen-Cafeteria Roll-in / barrier-free workplace Good public transport Parking Lots Coaching Discounts for employees Events for employees Hybrid Work possible
Visitor address
Veluwezoom 4
1327 AG Almere
Nederland

Postal address
Veluwezoom 4
1327 AG Almere
Nederland

Athlon is an international provider of operational vehicle leasing and mobility solutions. We are active in ten European countries: Belgium, the Netherlands, France, Germany, Luxembourg, Spain, Poland, Italy, Sweden and Portugal.
The Athlon leasing portfolio includes approximately 245,000 active contracts. In Belgium, Athlon has put 40,000 vehicles on the road; we are the third largest player in the market.
Our ambition is to be the most client-oriented leasing company. How does this match up with your own goals? Would you like to make our team stronger?
Everything around jobs
Pupils
Students
Graduates
Professionals
Open positions
Close
Open positions
Close
Open positions
Close
Open positions
Close