April 29, 2022 – At its first Annual General Meeting under a new corporate structure as Mercedes-Benz Group AG, the brand with the three-pointed star reasserted its claim to leadership in the automotive luxury segment.
Mercedes-Benz continues its successful transformation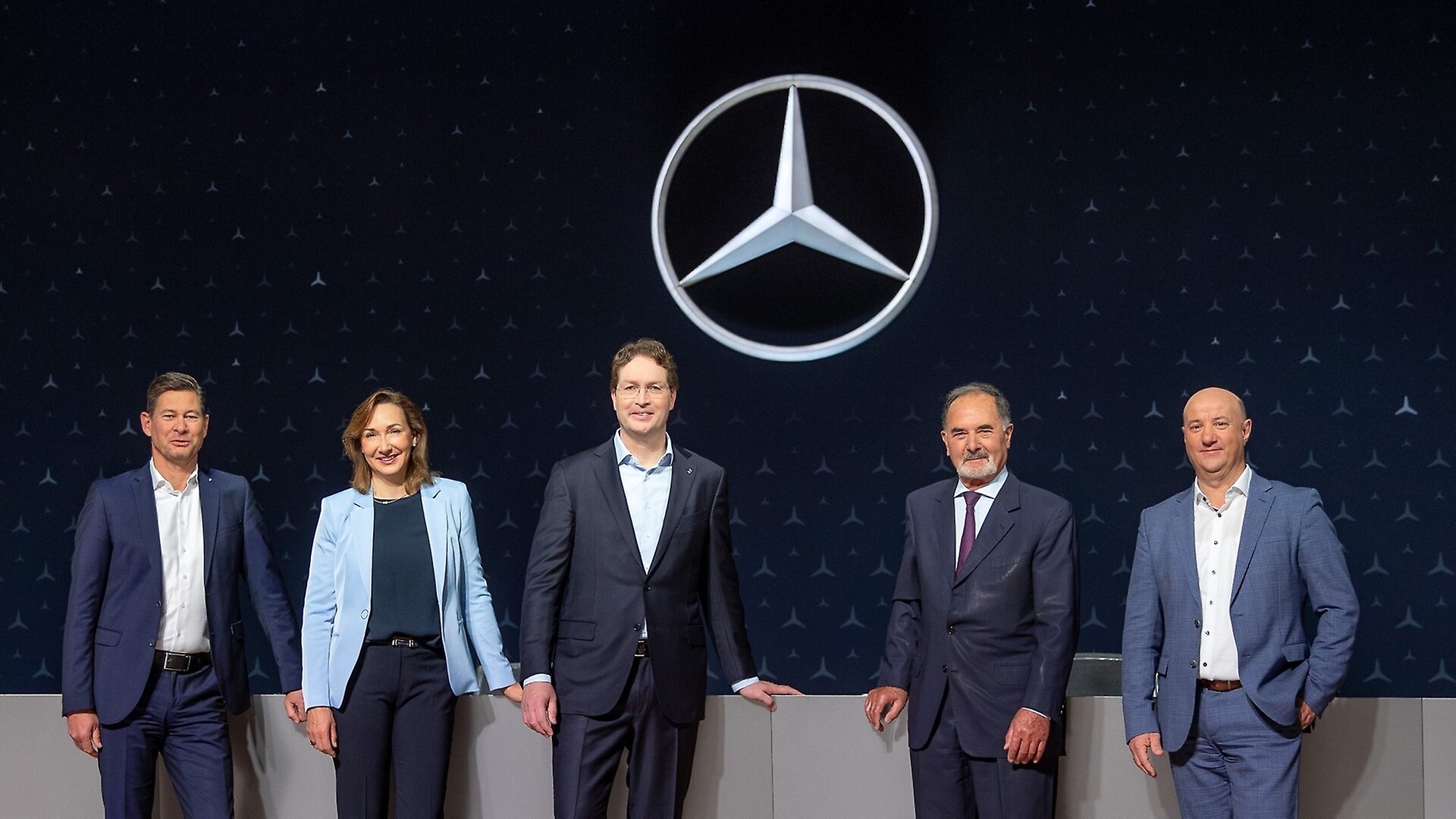 Mercedes-Benz Group AG Annual General Meeting 2022 (from left): Harald Wilhelm, Renata Jungo-Brüngger, Ola Källenius, Bernd Pischetsrieder and Michael Brecht.
Last year Mercedes-Benz made good progress: We were able to sell not only more electric vehicles, but also more top models: And this, despite the ongoing pandemic and the supply bottlenecks for semiconductors. Thus, we have come a step closer to our goal of becoming fully electric and offering the most desirable vehicles.
Successful 2021
Focusing on electric vehicles and growing the top-end segment at Mercedes-Benz has paid off. Four figures illustrate this transformation: Group sales of the top-end models increased by 30%, sales of electric passenger cars increased by 64%, sales of electric Vans 118% and adjusted EBIT of the Mercedes-Benz Group grew by 123%. In addition, business resilience was further enhanced. Despite the ongoing pandemic and supply bottlenecks, the financial year 2021 at Mercedes-Benz Cars, Mercedes-Benz Vans and Mercedes-Benz Mobility was successful.
At Mercedes-Benz, we redoubled our efforts to implement our strategy and succeeded in translating this into fascinating products and financial success. I want to extend my gratitude to our colleagues for this achievement. Last year was a challenge, but our team rose to the occasion. We developed momentum and we still have plenty of potential. For Mercedes-Benz, the journey has just begun.
Dividend
The Board of Management and the Supervisory Board propose a dividend of €5.00 for the financial year 2021 (2020: €1.35) per share. Around €0.70 of the dividend is attributable to Daimler Trucks & Buses, as Daimler Truck Holding AG will not pay a separate dividend to shareholders for 2021. A dividend of €4.30 is the future reference value for the Mercedes-Benz Group. The total payout for 2021 is therefore €5.35 bn. (2020: €1.4 bn.).
Elections to the Supervisory Board
Bader M. Al Saad and Dr. Clemens Börsig will leave the Supervisory Board at the end of the Annual Meeting. Dame Polly Courtice, the former Director of the University of Cambridge Institute for Sustainability Leadership and Marco Gobbetti, CEO of Salvatore Ferragamo S.p.A., have been proposed for election. Thanks to their experience and perspectives in Environmental Social and Governance (ESG) matters and in the luxury goods industry, competence in strategic core areas will be further broadened on the Supervisory Board. According to Bernd Pischetsrieder, Chairman of the Supervisory Board: "The strategic realignment of Mercedes-Benz is based on the conviction that sustainability forms the basis for a successful luxury strategy. Mercedes-Benz is striving for a leading position in both areas. With their wealth of experience and broad knowledge, Dame Polly Courtice and Marco Gobbetti are ideally placed to support us in this endeavor."
Since the Extraordinary General Meeting on October 1st 2021, there has been a further change: Dr. Sabine Zimmer stepped down from the Supervisory Board as the Employee Representative as of December 8th 2021. Her successor as Employee Representative is Monika Tielsch, Member of the Works Council at the Mercedes-Benz Sindelfingen plant, as of December 9th 2021.
Documents for the Annual General Meeting 2022